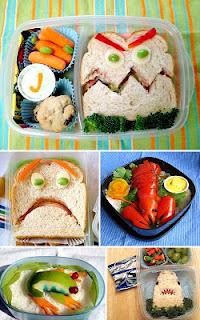 A

re you the lucky chef in your house who prepares the kid's lunch boxes in the morning? If so, I feel your pain. It's a mystery to me; food goes out nicely packaged and loaded with hugs and kisses and sometimes returns untouched . On the other hand, there are days when the box returns empty. Hmmmm. Enter my frustration. I'll say, "I thought you liked peanut butter and jelly." The answers range from, "I do, but I wasn't in the mood for it" or "no, I don't like it anymore," or better yet, "I don't like sandwiches anymore."  I'm perplexed. Do I ditch my only sandwich option or change my marketing tactics?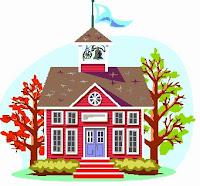 T

he tricky thing here is that this is only kid #1, I've got two other units to please. In the grand scheme of picky, my kids aren't afraid of a little fruit and don't have an aversion to green food, but they all have ridiculously different palates. I do pride myself in unmodified dinners for the family. One meal for all and all for one meal. No one is going to starve, and there's always cereal. For some reason, though, when you release your kids to the institution formally known as school; more commonly called the school house with learning cottages, the rules change. You've lost your fastidious control as the healthy food pusher.
T
here's hope, though. I could dive in with Jamie Oliver and the bunch to address the problem of unhealthy school lunches. It's on my list, but in the mean time I'm fighting my own food revolution on the home front.  I think one of the keys to a successful lunch box is to go tapas style--small portions and lots of variety. This can seem labor-intensive prior to a cup of coffee in the morning, but after caffeine, manageable with the right supplies. This week I'm experimenting. Simple, no fuss lunches with variety. I should mention that I refuse to cut sandwiches into cute shapes with cookie cutters or put faces on things that shouldn't have faces. Day one looked like this:
Lunch #1:

Homemade lunchable-- sliced cheddar cheese, whole grain crackers, piece of uncured ham, pickle. Granola. Strawberries. 2 Cookies. 
Lunch #2:

Bagel with cream cheese. I like Trader Joe's Spinoza bagels with 9 grams of protein. Aside from being high protein, the packaging states that it "Bagels Your Mind", which confirms that someone at Trader Joe's is 

over educated, underpaid, and still manages to have a sense of humor about his/her situation

,  yogurt tube--frozen, apple--cut in two halves, put back together and tightly wrapped in plastic wrap so it won't go brown, baby carrots and dip.
Lunch #3:

Veggie wrap with yogurt dip, red pepper, lettuce and cucumber, cheese crackers, vanilla yogurt, small milk chocolate bar.
T
he aftermath wasn't too bad. Most containers returned empty, bagel half eaten, carrots half eaten. Chocolate and cookies, gone.  I've had to put post-it notes on the sweets to remind them to "eat last." Which I'm sure they completely ignore, but it makes me feel better. I think a little sweet treat in the lunch box gets more eaten in the long run. G
ood friend and personal chef, Maureen Kramer of Baltimore Biscuit Company suggests offering up some healthy oatmeal cookies or homemade granola to jazz up the lunch box monotony.
Maureen's Granola
Ingredients:
10 cups rolled oats,1 cup dried milk, 6 cups nuts (any combination of raw almonds, walnut, pecans, cashews), 5 cups dried, unsweetened coconut flakes, 3 tsp. salt, 2 egg whites, ½ cup vegetable oil,1 cup honey, 3 tsp. vanilla, 2-3 cups golden raisins (add after baking). 
Heat oven to 275 degrees

Method:
1. Combine dry ingredients and mix thoroughly.
2. Add wet ingredients. Hint: add the oil first then pour the honey in that cup. Mix thoroughly.
3. Put it in pans 1-3 inches thick and bake.
4. Use a spatula to turn it every five minutes or so. Like cookies, it's best to take it out before it seems done. When it feels hot to the touch and is a light golden brown, it's ready.
5. Add golden raisins.

Chocolate-Laced Oatmeal Cookies
Heart-healthy oats are peppered with bittersweet dark chocolate chips to make these crisp calorie-conscious cookies.
Ingredients:
Olive oil cooking spray, 1 ¼ cups quick-cook old-fashioned oats, ½ cup whole
wheat pastry flour, 2 tsp flaxseed meal, 1 tsp cinnamon, ground, ½ tsp baking
powder, ¼ tsp sea salt, ½ cup agave nectar, 1 large egg white, 2 tsp unsalted
almond butter, 1 tsp pure vanilla extract, ¼ cup dark bittersweet chocolate chips
(about 40 grams)
Method: 
1. Preheat oven to 350°F and lightly spray 2 baking sheets with cooking spray.
2. In a large mixing bowl, combine oats, flour, flaxseed meal, cinnamon, baking powder and salt.
3. In a small mixing bowl, whisk together agave, egg white, almond butter and vanilla.
4. Add egg mixture to dry ingredients all at once and combine. Stir in chocolate chips.
5. Divide batter equally into 16 mounds (about 1 rounded tbsp in size) and arrange evenly spaced on prepared baking sheets. Using the back of a slightly dampened spoon, flatten each mound into 2 ½-inch circles. Bake 9 to 10 minutes, until golden. Cool on sheets for an additional 10 minutes before transferring to racks to cool completely. Stored in an airtight container, cookies will keep fresh for 2 to 3 days.

I
'm sure you're thinking, is she really blogging about this? This is nothing new. Sometimes, though, just hearing what other people are doing may spark an idea for you. I had to snicker the other day when I read an article about two chefs who couldn't get their kids to eat anything other than standard kid fare. Just hearing this makes me feel better and reminds me of an excellent cookbook idea I've had rattling around my head. The cookbook features two staple, kid-friendly meals from each one of my friends. Bingo, we all have some new recipes to shake things up at the dinner table. Unfortunately, that one hasn't even made it on the list, so in the mean time here are some yummy, kid-approved lunch box recipes: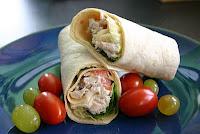 Wraps seem to be working in our house. 
Some of my favorites:
Peanut butter, nutella and banana

Veggie

--spread tortilla with yogurt dip or hummus, add lettuce, red pepper strips, cucumber or what ever your kids like.

Loaded Chicken Salad

--cook two chicken breasts and shred, add 1/4 cup mayo, 1 apple cubed, 1/4 cup dried cranberries, 1/4 cup toasted sliced almonds.
I
'm also a big fan of yogurt in all forms. My kids enjoy yogurt parfaits on the weekends, so I sometimes make them a lunch box parfait for school.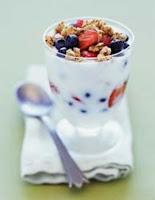 Lunch box parfait

--vanilla or Trader Joe's vanana yogurt in a small container with frozen blueberries or strawberries. Pack some granola in a separate container to mix in.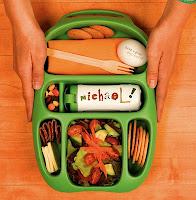 I

 find that having lots of small plastic containers on hand makes lunches easier to prepare and more eco-friendly. Another great option is to purchase a bento box style lunch box. I absolutely love these biodegradable lunch boxes from
Goodbyn™
. I always get a tinge of green guilt when I use those pesky plastic baggies, so you could consider the reusable bags, if you don't want to buy a new lunch box. There's a great shop on Etsy, Bleuroo, that makes adorable embroidered and personalized reusable snack bags. 
Happy preparations!