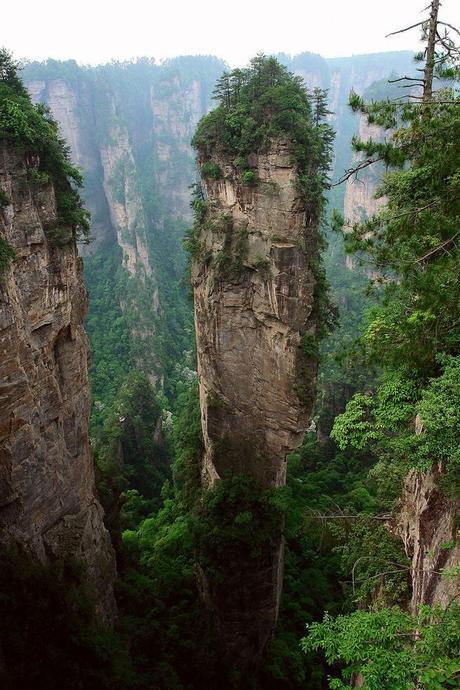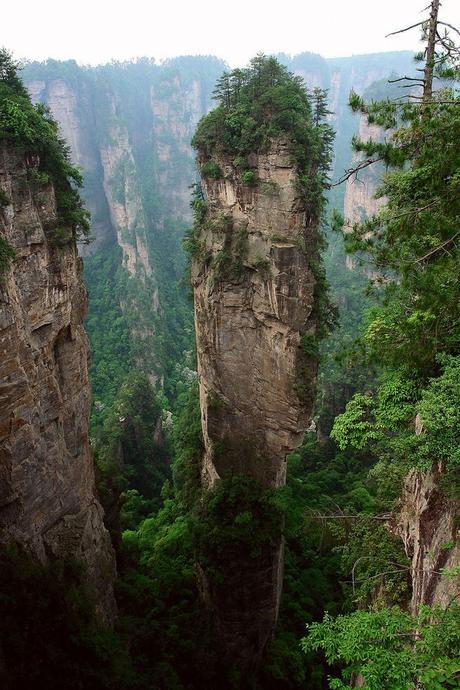 Wulingyuan, Zhangjiajie, Hunan Prov., China. Tree at right is Pinus tabuliformis. (Photo credit: Wikipedia)
China Opens World's Longest Bridge: Would You Cross If You Came To It?
It looks like they're going to have to change some promotional materials down in Louisiana, where the Lake Pontchartrain Causeway has long claimed to be the world's longest bridge over open water. At nearly 24 miles, the causeway is plenty long. But
…
The longest and highest bridge of glass in the world will be inaugurated in July in China, Zhangjiajie National Forest Park, which is said to have been the inspiration for the planet Pandora in the movie Avatar, directed by James Cameron, inform CNN.
Glass bridge will connect two peaks in the area known as Zhangjiajie Grand Canyon, in the Chinese province Hunan, and will cover a distance of 430 meters, with the opening of six meters. The bridge is built at a height of 300 meters. In comparison, the Grand Canyon Skywalk, a tourist attraction built on one of the walls of the Grand Canyon in the western United States, is 21 meters long and lies at a height of 219 meters.
5 longest bridges in the world – Construction Review OnlineIt is the second longest bridge in the world, as recorded by the Guinness world record in 2011. It runs between the towns Langfang and Qingzian, its main location being Hebei town in Tianjin. It took four years to complete.
Chinese construction Haim Dotan is Israeli architect who also carried the flag at the Expo 2010 Shanghai Israel. According to him, the bridge has the ability to support 800 people at once.
Zhangjiajie Park Forest is a nature reserve located in the vicinity of Zhangjiajie, Hunan province in northern China. With an area of ​​56 square kilometers, the park was opened to the public in 2009 and, according to CNN, was the inspiration for the planet Pandora, director James Cameron creation in Avatar, appeared in 2009.