Bluetooth headsets are state of the art technology. Cordless headphones fall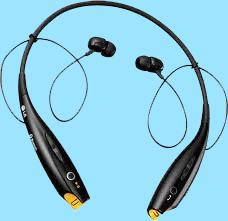 into that category of bluetooth.  At my job, I am able to listen to music and need to have it wireless so that I can move my arms at free motion. I had heard that this bluetooth technology was becoming super popular and wasn't too expensive. I was destined to find the best Bluetooth headset available since I was going to be using it every day. It was a pretty big deal that I did my research well because this technology is somewhat new still.
Why Is This Technology Better Than Others?
After doing hours and hours of research on review sites, I've come up with the best Bluetooth headset I could find. The LG HBS-700 is the device I purchased. Ranging on the Internet anywhere from $70 to US$250. I noticed that it was a lot cheaper from whole sale buyers on ebay than anywhere else on the web. I then purchased it from a whole sale seller on ebay.com. The buyer was a top rated seller and I had my headset within three business days.
This device is a little bit ahead of its time because it involves a ring like shape that goes around your neck. The speaker buds come out of a magnetic holder, and fit into your ears perfectly. Think of it as a "U" type shape that fits around your neck. To try to explain how this device seats around your neck is a little difficult. Images define the design better than words.
What Is The Device Mainly Used For?
The device is mainly used for listening to music in both your ears but you can also take calls with crystal clear visibility. What happens while you are listening to music and need to take a call is, the ring around your neck starts to vibrate. You then hit the call button to answer the call. This is some extremely innovative technology. I was blown away with how well it all worked together.
The crystal-clear sound quality from your voice going all the way down to the ring of your neck is amazing. I had no idea that it was going to be this clear. It almost is scary how well you can hear the person talking on both sides of the line.
On the other side of the ring around your neck there are buttons in which you can hit next and previous for music. You can easily stream pandora or scroll through your music on the phone. This headset is the perfect headset for media and calling. Just check out the ratings on this device. I am not the only one talking the world about this bluetooth headset.
That is my review on the best headset designed for music and also calling capabilities. Author Chris Weber loves to write reviews for great products like this that need to be shared around the world. He is always up to date with technology by following the http://www.pcmag.com/reviews page. It is a great source to follow if you want to learn about reviews on electronic devices.
Tagged with 
cell phones headphones technology