With St. Patrick's Day around the corner, I decided to share the legend of the shamrock with you!  This will give you something to think about while drinking beer and eating eggs and cornbeef!
May your blessings outnumber
The shamrocks that grow
And may trouble avoid you
Wherever you go.
Irish Blessing
For Irish-Catholics, the shamrock represents the Holy Trinity of the Father, Son and Holy Spirit.  Legend states that St. Patrick used this local clover to illustrate the Trinity to the pagan people of Ireland.  Ancient Celtics believed the shamrock had mythical powers and held it to be a sacred plant.  St. Patrick likely selected the shamrock to show the concepts of Christianity using a symbol they could relate to.  This proved to be an extremely effective method, as many of the Druid High Priests coverted to Christianity. 
As with all legends, there is debate over the validity.  Whether this legend is fact or fiction, there is no argument that the shamrock has become a widely recognized symbol of the Emerald Isle! 
While on the topic of Ireland, I wanted to share with you a tapestry I made as a final in college.  This tapesty showcases various Irish symbols, mainly variations of Celtic knots.  As far as my weavings and tapestries go - this is by far my favorite piece!  I just can't seem to find the right spot for it in my home; it's quite large!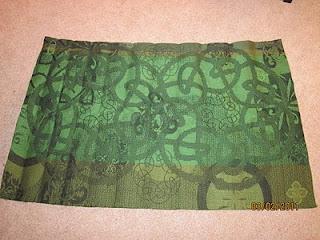 Ádh na nÉireannach and Happy Crafting!