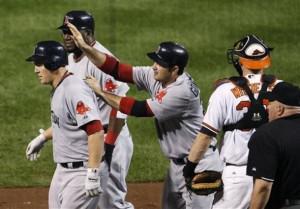 Last Friday, Ryan Lavarnway was the Red Sox player who appeared at the BLOHARDS meeting at the Yale Club. He was interviewed the Red Sox' announcer Dave O'Brien, and he came across as a nice guy, and supremely confident in the Red Sox' chances of going to the postseason and doing some real damage.
Now I can understand why.
Lavarnway became the latest Red Sox cult hero, as he banged two home runs in the 8-7 defeat of the Orioles at Camden Yards. He was pressed into service at catcher, as both Jason Varitek and Jarrod Saltalamacchia were nursing injuries.
Ryan even threw a runner out at third base, Adam Jones trying to steal, in the second inning.
Erik Bedard gave the Sox only 3 1/3 innings before Terry Francona, who was managing like it was the postseason, pulled the plug and brought in Alfredo Aceves. He was superb, allowing just a solo homer in pitching 3 2/3 innings and getting his 10th win.
Daniel Bard and Jonathan Papelbon were both rocky, allowing three runs in the final two innings, but a huge W went up and with Tampa Bay's win over New York, both teams are now tied at 91-70 going into the final game of the regular season on Wednesday night.
But it was Lavarnway's night, as he drove in four runs, and probably would have driven in three more had it not been for a sensational catch that Nick Markakis made with the bases loaded between his slams.
Jon Lester gets a huge chance to redeem his September, as he goes on three days rest against Alfredo Simon tonight at 7:05.
Keep the Faith, y'all.