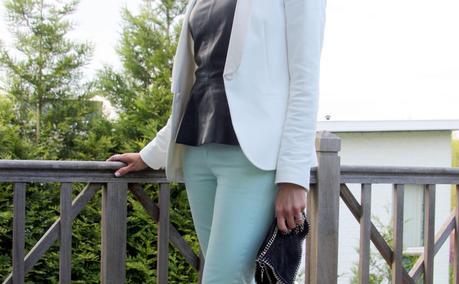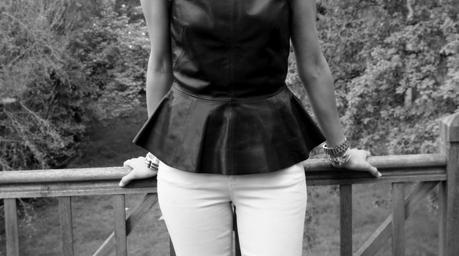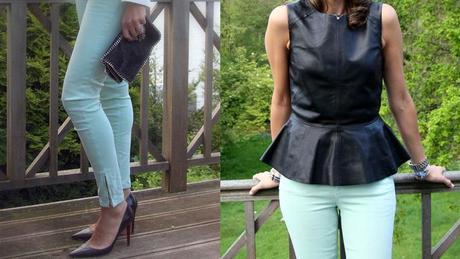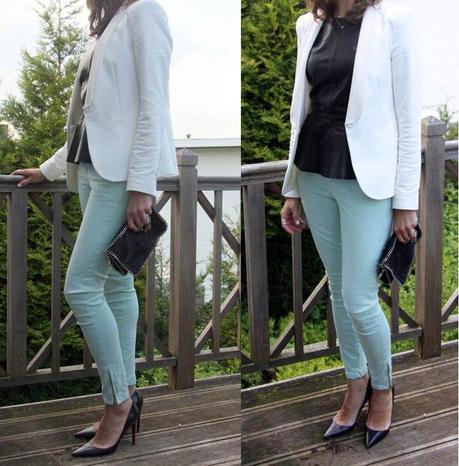 Leather peplum top - H&M
White blazer - Zara (similar)Mint jeans - Zara
Black heels - Christian Louboutin
Mini-bag - Stella Mccartney
If you read my post on peplum tops some weeks ago you might remember that I fell in love with the leather peplum top from the H&M Trend collection. You probably also recall that at that time I didn't think that I was going to be able to find it. Well, lucky for me I was wrong. Thanks to the best reader a blogger can ever have (♥Caroline♥ I'm talking about you ) who got it and mailed it to me, I received my most-wanted top last week.
When I saw it in real life I was even more convinced, the combination of the peplum style and the leather makes this top really exquisite. I think this is one of those pieces that will stay in my wardrobe for a very long time.... Can you tell I'm in love ?
Now, I'm curious to know if YOU have fallen for the peplum trend. This is a trend that we see everywhere on magazines, runways, fashion blogs, etc, but in real life I have personally never seen a peplum piece so I wonder how popular it really is. Please share your thoughts !
xx Marta