So here is the new and the latest addition of OS in Android family named as Jelly Bean (Ver. 5.0) which is a successor of existing Ice cream Sandwich (Version 4.0) currently featuring on Samsung Galaxy Nexus or is known as Google Nexus Prime. The existing version of OS is combined OS for smartphones and tablets. The expected launch of Ver. 5 is by June 2012.
The launch is much anticipated as it will make the Chrome OS port to mobile devices henceforth acting as synch point between your desktop/laptops and  tablets/smartphones. It has an improved power management suite hence battery life of the handheld will be higher.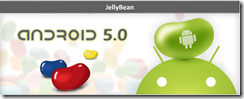 Another unique ability this OS comes with is you can change the view to landscape of your smartphone and hence can use it as tablet. While all the Android OS are inherited with features mostly from all there predecessors but the Ice cream version 4.0 came with the best features of Honey comb and Ginger bread the previous two versions. I want to share the reason of selecting Jelly bean as the name for the latest android OS as the predecessors of this versions are generally on the name of Desserts but the name with J don't have any dessert as the Family names of the previous versions of Android OS i.e. C Cupcake, D Donut, E Eclair,  F Froyo, G Gingerbread, H Honeycomb.
The Best thing if you see from the customers perspective is the Jellybean is optimized to run on budget devices thereby allowing manufactures to offer cheaper phones in Android category of smart phones.
Great features which are still awaited from this version of Android OS:-
A. Chrome browser supportive. Still anticipated as the users are still finding tough way out with the current browser which is sometimes hanging sometimes slow.
B. File manager needs improvement with the advent of cloud technology and stock room with other smart phones a file manager utility is a must.
Hope you have found this new topic a bit refreshing. I believe that technological update is must so more is in pipeline for readers to find such information which is of importance for them. I am not disclosing the upcoming topics but you will see more frequently the updates from technology world more often in this space.
Tele-Columnist!