It started with me saying to Stephen, "Hey babe, let's makeover our office this summer."
But then, as we begin the process and go into Lowes for just paint and a paintbrush, it then turned into, "Ooooh, we should replace our sinks in all the bathrooms", and "Oohhh what about these new light fixtures" and the list goes on.  So what started with a simple redecorating of our office, has then expanded to other parts of the house.  While the office is still under construction, we have currently wrapped up our guest bathroom.  Now mind you, we are NOT "do it yourself" kind of people, but we found this to be a very good exercise for our marriage to give it a whirl.  In the past week as worked on the guest bathroom, we've had our fair share of water drop on our head as we tried to learn Plumbing 101 in replacing the sink, we've gained muscle holding up the light fixture that wouldn't fit right because the right size screws didn't come in the box, aaaaaaand don't get me started on my oh so crappy drywall job as we removed the previous towel bar and mirror on the wall.  My dad, who was a drywall contractor for a living, would be oh so disappointed.  But my solution?  Figure out a creative way to cover it up!  And what better than with inspirational B&W photography photos! ha!
Here's the before and after our of guest bathroom.  The office and more to come soon as we accomplish it!
We painted the wall with chalkboard paint because we decided it would be fun for our guests to leave messages on the wall when they stay with us.  The new light fixture is from Lowes, turned upside down.  And I found this fabulous white glossy glam mirror at Wayfair.com by Cooper Classics.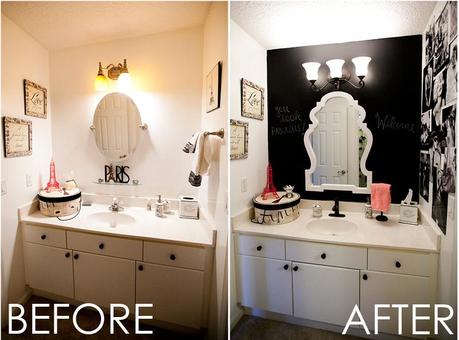 The new black sink is from Lowes.  I still can't believe we replaced our own sinks.  I never thought I'd see the day where either Stephen or I were under a sink with a wrench.  But we did learn in the midst of this where our emergency water turn off main is to the house.  Never knew that existed before hand, and apparently it's important to know where this is in case of flooding.  Do you know where yours is?  ha!

Fabulous photography ripped from magazines to hide my un-fabulous drywall job behind it when taking down the previous towel rack.  But it actually ended up going really well with our black and white theme bathroom!  And I *think* I got the friend signs from Hobby Lobby years ago.