Wikipedia might tell you that the The Knife are from Sweden, but that's not entirely true. The Knife are from Mars. Or the moon. Or somewhere else far, far away from earth, and all the silly little minions that inhabit it. After seven long years of silence, The Knife's Shaking the Habitual is finally here. Whatever your comfort zone may be, consider it shattered; or, better yet, eviscerated. And that's exactly the point.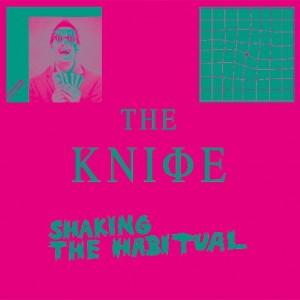 The Knife gifted us new treasures "A Tooth For An Eye" and "Full of Fire" quite some time ago, but these tracks were just the tip of the iceberg. Really, though, what else might you expect from mysterious, ingenious siblings Olof Dreijer and Karin Dreijer Andersson, two of music's most admired and enigmatic figures.  After a lengthy hiatus (their last album was 2006's dark, devilish Silent Shout), the acclaimed duo now reunite not only with brand new sounds, but a brand new mission (manifesto included). Wealth, privilege, race, gender, societal norms– these complex issues and more are put to the test on Shaking The Habitual, a 98 minute, 13 track double album that ebbs and flows with the power of a modern epic.
Despite its sharp, evocative beauty, Shaking The Habitual is more a nightmare than a dream. Like in our subconscious, though, it's hard to know where to begin, or where one thing starts and another ends. The aforementioned opener "A Tooth For An Eye" blends effortlessly into the darker, tension-filled "Full of Fire," a spinning, dizzying journey that may verge on chaos, but never quite achieves it. While "A Cherry On Top" is a decadent slice of swirling, ominous haze, things lighten up considerably with the wonderfully titled "Without You My Life Would Be Boring." The former is a twisted take on kabuki theater, or an unsettling, cinematic dream directed by David Lynch. The latter is vaguely Native American in sound, and features instruments that I've probably never heard of, let alone seen.
The center of Shaking The Habitual lies in "Old Dreams Waiting To Be Realized," the album's already controversial cream filling. "Old Dreams" is 19 minutes, 22 seconds of near silence, an almost full twenty minutes of barely audible buzz. Later on, we're right back to business with "Raging Lung," a slow-burning dance track that evokes the ghosts of singles past. Still, if you're looking for Shaking The Habitual to provide your next "Heartbeats," you should look elsewhere. The energetic "Stay Out Here" comes close as far as club anthems go, but eerie guest vocals from Light Asylum's Shannon Funchess and visual artist Emily Roysdon do more to disturb than delight. Similarly, "Fracking Fluid Injection" sounds no more welcoming than its title suggests. For better or worse,  Shaking The Habitual is more about pleasing the mind than the ear.
If you've got the patience and the time to spare, Shaking The Habitual delivers the goods. Each track is long– most border on the seven-or-eight- minute mark– but these are miniature masterpieces, not just tunes for jamming on the subway. At its best, Shaking The Habitual is mysterious, transcendent, miraculous. At worst, it's tedious, or barely anything at all. Still, it's true what they say: without The Knife, our lives would be so boring.