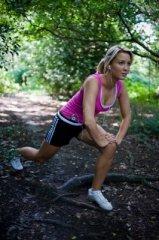 Image: Andy Newson / FreeDigitalPhotos.net
"The woods are lovely dark and deep, but I have promises to keep and miles to go before I sleep." ~Robert Frost
Oh running, how I love thee. Granted I am not the fastest runner (bad knee) or a marathoner but there is a simple joy I take in going outside and testing myself.  I especially enjoy running in places that I find to be serene:  a trail in the woods, the beach, or alongside a quiet road.  I focus on the sounds of nature as I run which has helped me to attain many of my fitness goals.
As with any regular exercise routine, benefits include weight management, improved mood, improved sleeping patterns, and increased energy levels.  I also find it fun and bit adventurous when I take a new path or run in the park in the morning.  I never know what type of wildlife I will see or who I will "run" into.
Although running is not for everyone, I have found it to be a very useful tool in my quest to control my anxiety as well as a great way to manage my weight and stress levels.
Below are some of my favorite running/fitness sites, enjoy!