First published on McSweeney's Internet Tendencies, this is a skit likening bored suburban neighbors throwing Gatsby theme parties to zombies. It made sense in my head at the time.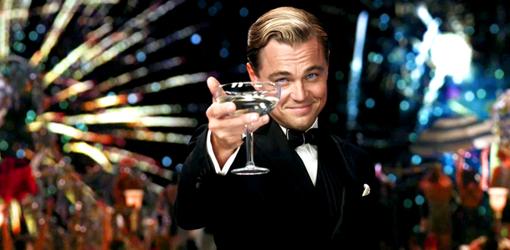 FADE IN
INT. UPPER CLASS HOME LIVING ROOM – NIGHT
A man, BEN, wearing pajama pants and a tee shirt, is reading his newspaper. His wife, BARBRA, wears a flowered robe and is curled on the sofa, reading a book.
BEN
Do you hear that?
Ben drops his paper and tilts his head. We hear the faint sound of music coming from outside the home.
BARBRA
What?
BEN
Sounds like… music.
The music is getting louder. The song is 'Toot Toot Toosie Goodbye'  by Al Jolson
BARBRA
(shrugging, unconcerned)
I guess someone is having a party.
The doorbell rings.
BEN
Who could that be at this hour?
The man gets up from his chair and walks to the window by the front door. He peeks outside.
BEN (CONT'D)
It's the Johnsons!
The man moves to open door. As his hand touches the doorknob, his wife leaps from the sofa.
BARBRA

Wait, Ben! Don't open the door!
BEN
What? Why?
BARBRA
The Johnsons. What are they wearing?
BEN
(peeks out the window again)
She's in a dress and he's in a suit.
BARBRA
Old-timey outfits?
BEN
Old-timey? Well, now that you mention it, they're both wearing hats…
BARBRA
I knew it! Whatever you do, don't open that door!
BEN
Barbra, what is it?
BARBRA
The Johnsons… They've gone Gatsby!
BEN
(his face is awash with horror)
Turn off all the lights!
Ben and Barbra scurry to turn off the lights on the first floor. They meet back in the foyer, holding their breath as they stare nervously at their front door. The doorbell rings again and they jump.
MRS. JOHNSON
(calling from outside in a sing-song voice)
We know you're in there, sillies…
MR. JOHNSON
Yes, come on, old sport! Open the door!
Barbra covers her mouth, trying not to scream.
BEN
Do you think it's the whole community?
BARBRA
I don't know! This happened to my sister's neighborhood, but I never thought it would happen here!
There is knocking at the door and the doorbell rings again.
MRS. JOHNSON
Do come out and have a glass of giggle water with us!
There is rapping on the window at the side of the house. Ben and Barbra whirl towards the noise. We can see a woman in flapper dress waving at the window, the large yellow feather in her headband bobbing.
BEN
They're coming to get you, Barbra, there's one of them now!
FLAPPER
(calling through the closed window)
Barbra! You simply must join us! It's the bee's knees!
BARBRA
(turning to Ben, her face ashen.)
We'll have to board up the windows.
There is shuffling on the front porch.  A crowd is gathering. Gay laughter erupts.  The tune 'My Blue Heaven' fills the night air.
BEN
My god, the movie's just come out. This could go on for weeks! Hell, it's DiCaprio! It could be months! Remember 'Titanic?'
BARBRA
This will be worse than 'Mad Men.' The theme parties, the costumes…
Barbara touches her head, a glazed, faraway look in her eyes.
BARBRA (CON'T)
I don't even own cloche hat…
BEN
(grabbing Barbra by the shoulders)
Barbra! Snap out of it! Don't be a dumb dora!
Ben slaps his hand to his mouth, horrified. 
BEN (CON'T)
It's happening. Barbra, we're doomed.
Ben turns and steps to the window. With a final glance back at Barbra, he throws back the curtains. On the porch there is a party in full swing. Men in homburg hats and women holding cocktail glasses grin and toast to them through the window. 
MR. JOHNSON
Join us, old sport! There's plenty of hooch for everyone!
MRS. JOHNSON
Everything is jake!
BARBRA
(her attention captured by something beyond the crowd)
My god… Ben, look! Look out at the bay!
BEN
What?
BARBRA
Remember when you asked Sampson to replace the dock light bulb?
BEN
Yes?
BARBRA
Look!
We see the light on the end of Ben and Barbra's dock, glowing in the darkness. It shines with an eerie green hue.
BEN
 That fool!
BARBRA
(monotone, all hope lost)
So we beat on, boats against the current, borne back ceaselessly into the past.
Gershwin's 'Rhapsody in Blue' swells, mixing with the sound of the people chattering and glasses clicking outside.
FADE TO BLACK