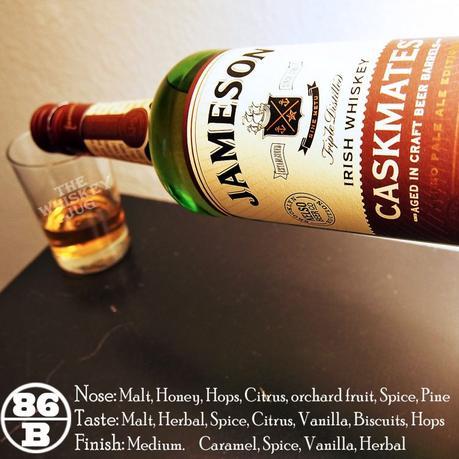 Jameson Caskmates Kelso Pale Ale Edition, like the Jameson Caskmates Stout Edition, is the typical Jameson Irish Whiskey that's been finished in a craft beer barrel. in this case it's the KelSo Pale Ale from the KelSo Beer Co. who, in 2014, obtained 6 casks previously used to age Jameson to age their IPA in. When KelSo was done with them Jameson took the casks back and used them to finish a batch of whiskey in.
Jameson, like most Irish and Scottish whiskey producers, uses mostly ex-bourbon barrels to age their whiskey in so if you're following along at home the casks used in the Jameson Caskmates Kelso Pale Ale Edition went something like this. A bourbon maker used the new charred oak barrels first (I believe it's Wild Turkey in this case), then they were shipped to it to Ireland for Jameson to age their whiskey in, Jameson then sent them to Brooklyn, NY to age some KelSo IPA in and finally KelSo sent them back to Jameson to finish some whiskey in them. That's quite the journey for these little casks.
The Jameson Caskmates KelSo Pale Ale Edition Info
Region: Cork, ireland
Distiller: Jameson (Midleton)
Mashbill: Blended Pure Pot Still (malted & un-malted barley) & Grain whiskey (mostly corn)
Cask: ex-Bourbon & ex-Kelso Pale Ale
Age: NAS
ABV: 40%
Price: $37*
The Jameson Caskmates KelSo Pale Ale Edition Review
EYE
Copper
NOSE
Malt, honey, hops, citrus, orchard fruit, spice and a piney gin-esque herbal character with a hint of caramel and anise. The aroma is great.
PALATE
Malt, herbal, spice, citrus, vanilla, biscuits and hops. The pale ale character really stands out, it works very well against the whiskey and sits as a nice base to some of the lighter honey and fruit notes that build more towards the end.
FINISH
Medium wind-down of caramel, spice, vanilla and an herbal character.
BALANCE, BODY & FEEL
Nicely balanced, medium body and a soft slick feel.
OVERALL
The Jameson Caskmates KelSo Pale Ale Edition is like the other side of the coin to the Caskmates Stout Finish and I'm honestly having a hard time figuring out which one I like more. The deep tones of the Stout or the bright citrus and hops of the Kelso? Both are good whiskeys and tasting them side by side the only conclusion I came to was that I wanted to keep drinking both of them.
The aroma of the Jameson Caskmates KelSo Pale Ale Edition is like taking the best parts of Jameson whiskey and fusing it with the best parts of a good IPA. That balanced fusion carries across the palate and through the finish effortlessly and makes for a nicely balanced drinking experience. It's something I can easily see myself pouring now and then after a hard day in the digital content mines.
SCORE: 86/100
*Disclosure: This sample of the Jameson Caskmates KelSo Pale Ale Edition was graciously sent to me by the company for the purposes of this review. The views, opinions, and tasting notes are 100% my own.