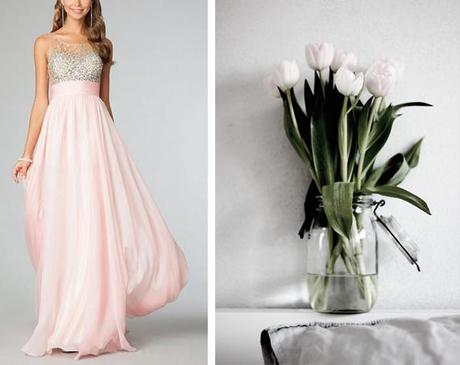 The powder pink is a color that has a smell and a taste.
It smells of baby powder and tastes good.
If I think about the quintessential feminine color, that's definitely pink, declined in a large number of shades.
From the pale and faint one that almost merges with the white, to the more intense that goes into fuchsia and veer in fluo.
How many times have we wanted a candy pink dress, made of layers of tulle and chiffon? How many times have we seen the perfect princess dress on high fashion runways? Not least the incredible sorbet pink – looking good to eat –  showed us by Giambattista Valli's Paris Haute Cuture fashion show – if you nee a recap you can have it here.
Fortunately, today there are sites like Ihomecoming that allow us to fill our closets with layers of soft chiffon for less than $ 150.
In America they call prom dress and it's the less formal version of the black tie. Previously reserved for  final collage ball, they now have the same meaning, but are used whenever we need the right dress to feel unique and being noticed like on a promenade.
For me the right dress is long.
Made of a soft and fluffy fabric. That slenders, but fills.
It should not be to colored, but soft and delicate. Made of layers. Made of fine tailoring works and bright materials.
The dress should illuminate and enhance you, never cover your natural beauty.
I think I chose my dress among designer prom on Ihomecoming.com.
And it's the percfect match with white tulips of the first photo. And at this point does I don't need anything, but waiting for the right occasion to wear it.