It is easy to associate all 1960s fashions with mini skirts but skimming mini dresses or skirts were not worn by many until the 1966.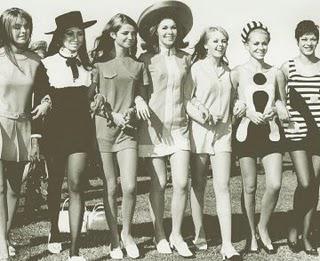 The first designs came out in 1965 by Andre Courreges but the style was made popular by Mary Quant. She is rightly credited for making skirts that were 6 to 7 inches above the knees. Quant is said to have named the mini skirts after her favorite model of car, the MINI.
And guess who were the first people to adopt the style?? None other than LONDON FASHIONISTAS. Although these girls were not called fashionistas at the time, they were open minded enough to try out the new designs. This fashion trend took off because it was so different and it appealed to the youthful side of the individual. The outfit was so controversial at the time but London social fabric was less traditional compared to their American counterpart.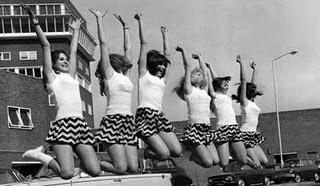 The Quant style was soon known as the Chelsea look because they were simple, clean cut and young. Or maybe the nickname may have came about because Mary Quant ran a popular clothes ship in Kings road, Chelsea london called Bazaar. We are not quite sure which of the two, but one thing we do know is that this is a trend that is here to stay. whenever the Sun is out in all its Glory, every girl pulls out a mini skirt to show off their gorgeous legs.
The mini skirts international acceptance was also boosted when Jean Shrimpton, a popular model, unwittingly caused an international stir in late 1965 when she wore a mini skirt with no sotcking, hat, or gloves at the Melbourne cup carnival in Australia. Her apparent disregard for the bland status quo made a trend-setting fashion statement around the world. However, this was not always the case in some European countries where the miniskirts were banned because they were seen as an invitation to rape. *This is laughable*
Mini skirts have evolved over the years, check out this sailor lined skirt http://www.vinchi.co.uk/vintage_inspired_sailor_lined_skirt_p/1016s.htm. A perfect outfit for a day out in the sun and on sale for £10.50.. Bargain !!
Stay posted to learn more and see what's hot in the vintage world.
Vinchix