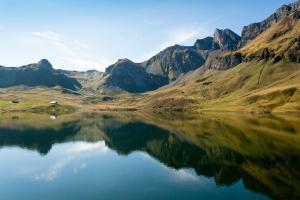 Here at Living the Dream, we are not hikers by any means.  In fact, short of a guided tour or popular day hike you probably won't be finding us on any uncharted trail or blazing a new path to an awesome lookout.   While we are planning on doing some great trails in the future such as Everest Base Camp, the Inca Trail, and the W Circuit in Patagonia, we also have the luxury of going on a guided hike for these such that safety is not a huge concern to us in case something goes wrong.  For all those who
do go on such solo hikes
, and even those who go on guided tours or "safer" treks, safety should be the number one priority.  Enter
Life Beacon
, the newest safety tool for hikers and the brain child of one of my good travel friends. (Photo "Lakes in the Alps" by rolve)
Most hikers have probably seen the movie 127 Hours and cringed at the thought of what happened on that hiking trip.  As a non-hiker, the thought of safety and notifications to loved ones is essential, and Life Beacon was developed to provide the free service to be the hiker's safety net.
A Simple Premise
Life Beacon has one premise, and one premise only; to keep you safe.  To do so, users create "beacons" when they go out on a potentially dangerous adventure.  In the beacon, users place important information like where they are going, when they expect to return, and emergency contacts to contact if something goes wrong.
But how does Life Beacon know if something went wrong?  Well, the time you set is your "return time" and if you do not check into your beacon by the time your return time passes the contacts will be notified of a potential issue.   Don't worry about forgetting to check in, as Life Beacon has you covered there too.  In the event that you forget to check in but are okay, Life Beacon will send two warning emails to you within 15 minutes of each other at your return time to ensure you log your safe return.  If something goes wrong, your contacts will be notified and sent the information of where you went to contact emergency services with.
Not Just for Hikers!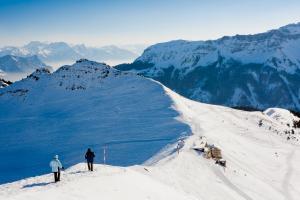 Don't think that hikers are the only ones that can benefit from Life Beacon.  The tool is actually pretty handy in a number of everyday scenarios that have been used on the site already: 
24 hour train rides in an unusual destination
First dates or blind dates
Running alone at night in a bad area
...and many more!
With some of these scenarios that have already been used, we can see the tool being quite useful for the long-term traveler heading out to explore a strange new land or even going off on a questionable day trip.  Although we haven't heard of the travel uses for this site yet outside of hiking, the uses are near limitless for those wanting to add a bit of a safety net to their next adventure from home or abroad.  (Photo "Snow Hikes" by rolve)
More Coming Soon
Life Beacon is still in beta stages, so right now the only working feature is to create beacons to alert family members if you miss your designated check-in time.  The owners have let a few secrets out to us on future updates and the site will soon be expanding to allow for SMS text messaging updates to notify of your progress and any route changes, an integrated points/rewards system for using the service, and the ability to share information, stories, and tips from your journeys to other hikers.  But that is just the beginning, there is even more coming that even we were not giving special access to!
Whether you are heading out for a solo hike or just a trip out at night, safety is always the greatest concern.  Life Beacon was created to give you peace of mind in case something unfortunate goes wrong because in many cases you may not be able to get to your phone or device to contact to the outside world.  It may be cliche to say, but the life you save in this case will be your own!
Today's post was not sponsored by Life Beacon, as we are trying to help get the word out for our friend who runs the site.  We think it is a great resource for hikers, and hope you can get the most out of it on your next hike!