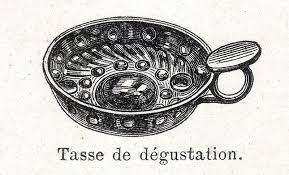 Wine should not be regarded simply as a beverage, but as an art of living, a pleasure." – Henri Jayer
Welcome to The Hedonistic Taster, a binNotes | redThread™ trade sampling of artisan wines.
Today's Tasting:
Troon Vineyard | Vermentino Black 2014
Vermentino hails from the windblown islands and coasts of western Italy's Tyrrhenian Sea. At Troon Vineyard, in the shadow of Oregon's Siskiyou Mountains, this wine whispers softly on the palate, like  a sea breeze.
Link here for my conversation with Craig Camp and wine maker Steve Hall of Troon Vineyard.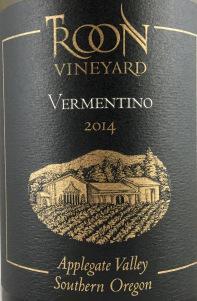 Wine:  Troon Vineyard Vermentino Black – Applegate Valley AVA, Southern Oregon
Vintage: 2014
Alcohol:  12%
Suggested Retail:  $29.00
Winemaker Specs: 
Vintage Summary:2014 was another classic vintage for the Applegate benchlands of Southern Oregon. Early budbreak, warm Spring weather, and moderate heat most of the Summer. Late September and early Oct brought cooler weather for flavor ripening and harvest. Perfect conditions for Vermentino.
Origin
: Applegate Valley
Composition
: 95.5 % Vermentino, 4.5% Early Muscat
Technical Information
: 300 cases. Bottled  17 May 2016 Brix: 20.5 Alcohol:   12.0 % pH:3.22Total Acidity (g/L):6.3r.s. (g/L)0.4
Winemaker comments
:  Treaded then pressed to tank, with a native fermentation then with a Rhone yeast added mid ferm.  Kept on lees for three months, eventually to almost  neutral Burgundy barrels for 13 months.  Folded in a little Early Muscat along the way to push back an austere briny aromatic.
TASTING NOTES:
Robe:  Pale straw robe.
Nose:   Lemon blossom, lemon verbena nose.
Palate:  Nothing sinister about this black label beauaty. Discrete lemon notes, light body.
Suggested Pairings:  Cheese and fruit plate with lightly-herbed flatbread.
❦❦❦
Link here for my conversation with Craig Camp and wine maker Steve Hall of Troon Vineyard.
❦❦❦
Copyrighted 2016 binNotes | redThread™.  All Rights Reserved.