Well I have reached the halfway point in my journey as an Intern, and being here at Family Cakes has been an experience so far. It  is always interesting, there really is a bit of something new every day. But I thought I'd share a little more of the behind the scenes stuff.
While I'm sure that many of you who are fans of Family Cakes see the beautiful creations that we produce, you hardly ever begin to know the hard work that goes into thinking them up.But I am the fly on the wall and I see and hear the process and sometimes I'm even involved, you know, because I'm a pretty big deal. Last week, I gave you just the tip of the iceberg in my blog about the bounty cake. That was just the actual decision process, the yes or no. But how did we get there, where did it start?
Really most ideas are just drawn from various inspirations, the Bounty cake is a pretty obvious example of this. We thought, hey, its a popular candy bar, lets make a cake out of it. The result wasn't quite what we all hoped for but that happens.Sometimes though, it's by total accident. There is some chocolate sponge left over, what can we do with it? That is what helped create this decadent beauty.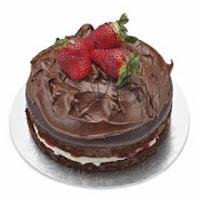 But other times, it is well thought out. And I mean well thought out. Sketches, price lists, and a distinct examination of different flavours and cake combinations. This does not just refer to the commissions made here, many of the cakes take time and lots of tinkering to make them perfect. It may take months to really truly get the cake  down to where we all want it. This is, might I remind you, all while also filling out the numerous orders for cakes, pies, cookies, cupcakes, etc. that Family Cakes gets every week.
They are in the kitchen in the morning, dreaming up new delicious treats, before most of us are out of bed and have had our morning coffee or tea. So personally I salute that...Granted sometimes beautiful creations, well...flop, but those are the breaks when it comes to cakes. (yes the rhyme was on purpose)
Either way it doesn't stop them from trying and if they ever did, then it just wouldn't be Family Cakes.
Hard at work