H All,
As you know I have been training hard for the last couple of months as I am undertaking a mammoth swim for the Stroke Association. They helped me so much when my dad was ill that it is time to give back, the only problem with this is that I have to endure the daily self hatred of getting undressed in a changing room full of attractive, perfect women! Don't get me wrong I am simply just jealous, but I can completely comprehend why curvy girls like me feel self conscious in the gym.
So this afternoon I decided that I would no longer let it bother me, which lasted all of 5 minutes, but I have to question why I am so bothered.These ladies don't know me and I may never see them again, the point is if we were all toned and thin, then there would be no gyms! So I am celebrating my curves tonight by posting workout wear that I love! Oh and the swimming training is going great and if you want to sponsor me then visit my just giving page. Remember all the donations go to helping people recover from strokes and also giving advice, counseling and education to sufferers, their families and the country in general!
The Gym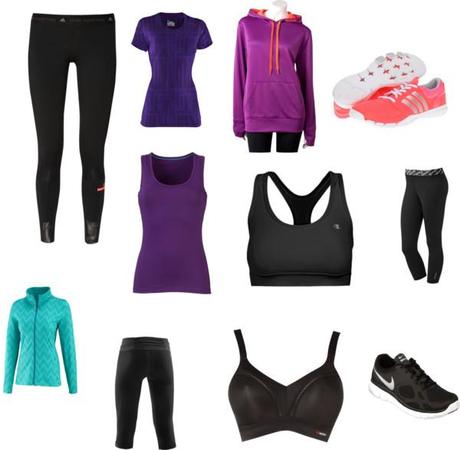 workout by
cleverlittlebuttons
featuring stretch leggings
So for the gym I simply adore leggings, I hate the way my thighs seem to wobble in baggy jogging bottoms, and have found that a good sturdy pair of leggings is the answer! I have a pair of adidas ones that are great as the stripes go downwards making my tiny legs appear longer! My main concern in the gym is my tummy and chest. I hate wearing tight clothing around my waist so I would team my leggings with a loose vest top, get one cheap is my advice. Then you need a decent sports bra – there are many companies that produce plus sized sports bras so do your research, but in my opinion you cant go wrong with Marks and Spencer's!
For Swimming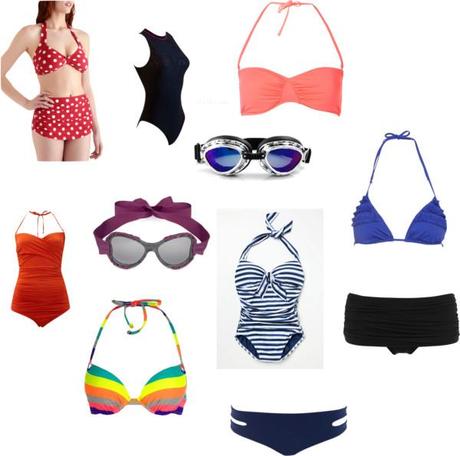 swimming by
cleverlittlebuttons
featuring a sailor bathing suit
Now my avid readers will know that I love a good swimming costume, especially 1950′s inspired ones. My opinion is the worst part of swimming is walking to and from the pool, unfortunately this can't be avoided! So from now on I am going to embrace my curves and show them off – for goodness sake I am spending a fortune on gym membership so why shouldn't I!