It was a thirty hour journey away from home. I couldn't be further away, yet my spirit was at ease. My body felt at home even as my lungs grasped the thin air at 4000 m above sea level, even as my tired feet negotiated with the ground beneath me, strewn with rubbles, each attempting to distract my footing . The terrain was at once smooth, rough, and very, very ancient. I was treading upon the soil of Isla Del Sol, which according to Incan myth was the first land that appeared after a great flood had seized the Earth.  My eyes wouldn't wander off the glistening vastness of Lake Titicaca nestled under the sky. With not a single cloud in sight, the Sun reigned supreme.  Making sense of the intense blueness that stretched before me, it was easy to imagine God Viracocha rising from these magical waters to create the world. There was a comforting sense of permanence to this island that lent weight to my otherwise transient journey.
I trekked on from Challapampa in the North where most people arrived by ferry, and revelled in my isolation.  Occasionally, a fellow trekker appeared in sight and we would smile, taking a breath to say " Hola".  Sometimes, it was more polite not to engage in conversation.  Breaths were precious at this altitude.  Villagers walked by in haste.   Their feet knew every intimate curve and edge of the rocky road,   their sturdy handsome hats defending against the unforgiving glare of the sun.
With a hundred postcard shots in my camera and a dozen selfies in my iPhone , I was satisfied, and hungry for more envy-inducing images.  walked into the public square of Challa, near the center of the island.  " What's going on?" I asked in broken Spanish, confident that the young man before me would oblige a curious stranger.  I was told it was a monthly town hall session where villagers sat to discuss crucial matters.  Voluminous, vibrant skirts spread on cool grass.  This was interesting, I thought, an image worthy of a hundred Instagram likes.    I reached for my camera and almost instinctively, the elders looked away.  As if in self-defence, a few women covered their faces with their hats, shielding against my intruding tool of art and voyeurism.  I lowered my camera and felt a queer mix of emotions. Disappointment with the thought of missing an Instagram moment,  and a slight, slight tinge of guilt.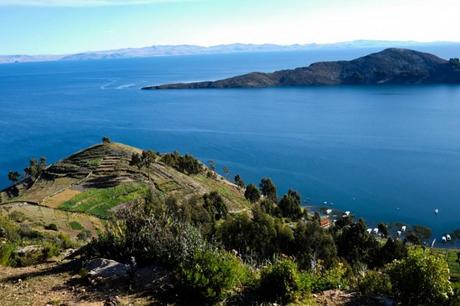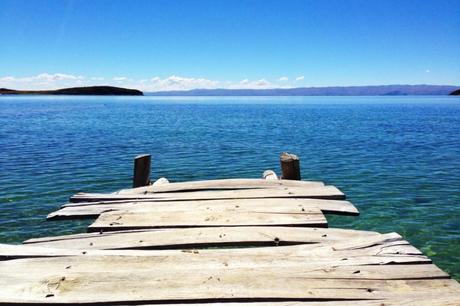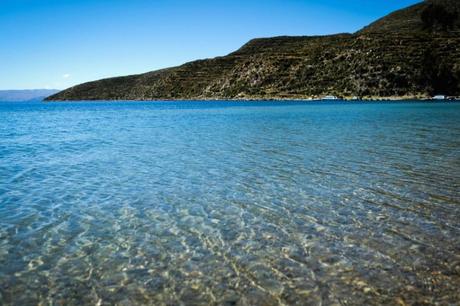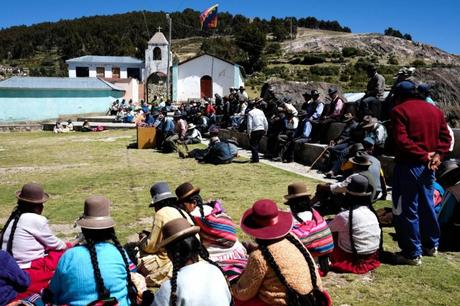 I moved on along the trek like a warrior past the never ending blueness of the lake.  An arch appeared ahead and i knew i was approaching Yunami, a village in the south where most travellers would spend the night in.  Infinite views of the sacred lake were soon marred by the most mundane establishments of modern day tourism. Ubiquitous PIZZERIA and INTERNET signs lured travellers hungry for the familiar and for connectivity with the invisible world that has become, perhaps, more tangible than the ancient earth beneath their feet.
Was I happy to see guesthouses  and inviting restaurants with modern toilets? Absolutely. I was no great explorer of the past but a regular traveler of the 21st century hungry for some comfort after hours of being beaten by the almighty Sun God. But these places, these rows of restaurants and guesthouses,  they looked so sorely out of place, and perhaps I too.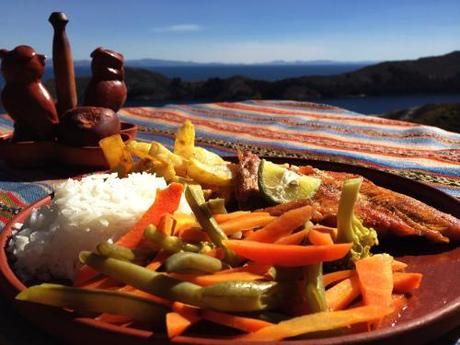 I put these thoughts aside and enjoyed the peace of the island which brought peace to my soul.  Staring into infinite time and space, it wasn't long before the time came to trek upwards to the Mirador, where one could witness the magical splendour of the sunset.
Putting one foot in front of another, I arrived.  I wasn't alone, of course, joined by eager travellers with large, fancy cameras.  A Japanese man with no fewer than four started an impromptu photo shoot with a group of local ladies and their children.  A repetition of " ok, one more", followed by tentative looks and shy giggles began. I was jealous.  There he was, effortlessly composing  professional portraits, while I struggled with a quick snap like an amateur paparazzi.   I observed the awkward scene for a bit longer and found my answer.   The man gave each of his Subjects a Polaroid shot as a reward for being sporting and cooperative. I wondered which would fade quicker, the Polaroid or their memories.
A little girl set up shop on the steps of the Mirador, pleading for us to buy the warm alpaca sweaters and gloves to brace the cold night ahead.  But of course, we were already in our sporty jackets, some with luxurious down.  "No gracias" I said, while she tried to entice me with handmade hippie bracelets that didn't look too different from the ones I saw in a countless number of tourist shops in Peru.  I wondered if I could try my luck again.  A selfie with this adorable little girl would be my new Facebook profile picture. I smiled the friendliest smile I could muster and saw her face light up with hope.   I inched closer , did a half-squat, and raised my iPhone at a perfect forty-five degree angle.
Snap. Done.
Satisfied, I lowered my phone and turned to look at her, excited, thankful, and eager to show off the well composed photo of us.  But she was not interested.  The eyes that had lit up earlier were now dim again. She looked disappointed. Hurt, even.
And she had every reason to be, because I wasn't going to buy anything from her. All I wanted was selfie. A selfish selfie.  The slight tinge of guilt I had tasted earlier at Challa returned, but this time, it had morphed into the heaviest and most unpalatable taste.  I could not recall the last time I felt so disgusted with myself.
The famed sunset of Isla Del Sol was over.   It must have been  magical for the other travellers, but not for me, and much less for the little girl.   After all, she didn't make a sale, and was cheated into a picture she didn't want to take.  Was I, praise the supplementary income of tourism, an integral part of their livelihood?   Or have I really become a part of their ruin?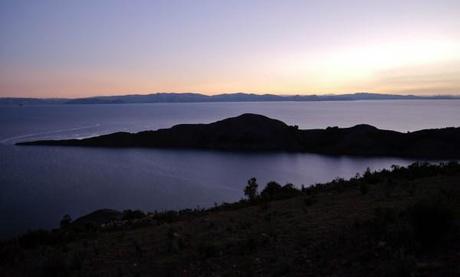 I left for the port of Yunami the next morning. Ferry loads of traveling warriors gathered at the port, all satisfied with their latest conquest.  Armed with hundreds of photographs as evidence of their stay on the island, they were ready for the next journey. Perhaps I was being too sensitive, for a picture of modern day colonialism came into my mind.  Lonely Planet took the place of the Bible, guns morphed into cameras, and warriors no longer the Spaniards but people from just about anywhere in the world with excess cash to spare.
I had read much about the beauty, peace, and isolation of Isla del Sol.   But nothing had prepared me for the unexpected and strange new identity. I was a guilty warrior of Lake Titicaca.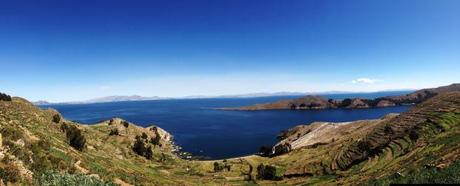 Practical Information
Accommodation:  In general, no advanced reservations are required for a stay in Yunami (South) which has more options and is " busier" than Challapampa (North).  I stayed at Intikala. An unobstructed view of the lake, breakfast, and private bath cost 70 Bs (USD 10)
Transport:  A ferry from Copacabana's port takes about 2.5 hours assuming fine weather conditions and cost 25 Bs (USD 3.60)
Trekking: It takes about 3-4 hours to trek from Challapampa to Yunami. The views are breathtaking (and for some, so is the altitude) Take plenty of water, a hat and shade are essentials too.
Tilda.Y