Traditional Japanese aesthetics follow a primary set of guiding principles. Each of these tenets help formulate the Zen designs that so many have come to love. This style is not only ideal for the bathroom, it can also prove to be the best decision you've ever made.
Soothing, rejuvenating, and unbelievably relaxing, you can almost feel the stress trickle down your back. Japanese design embraces simplicity, nature and the unspoken. You don't have to bring attention to that which is impossible to overlook.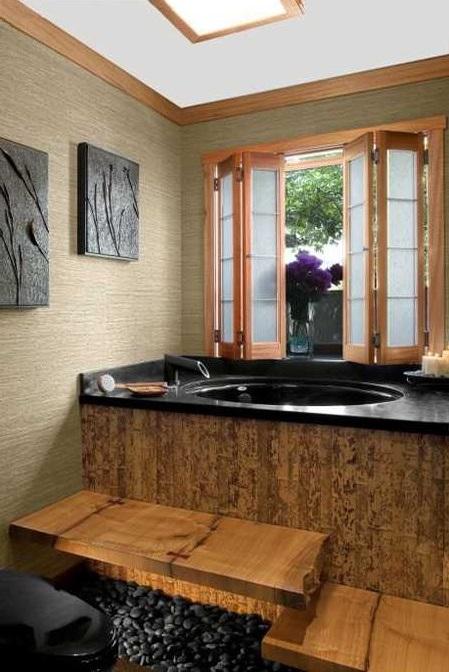 Japanese themed bathroom with neutral shades and natural bamboo cabinetry. Source: Decoist
7 Japanese Design Principles to Follow
1. Kanso (簡素)
Kanso is the idea of simplicity. This means eliminating senseless clutter in favor of something that is more natural and plain. Similar to the way in which modern design follows minimalist patterns, Kanso diverges from elaborate decorations that become overwhelming. In order to achieve clarity, we must omit anything the non-essential. When you think of Kanso, think of clarity.
2. Shizen (自然)
One underlying motif that you'll notice in Japanese Design is nature. When artificial enhancements are absent, nature is present. Nothing is forced and everything is spontaneous. This is what makes these designs so fluid and flawless. Your sole mission is to create an environment that feels as though mother nature carved it out herself. Think of it as forming nature in a way that is beautiful without modifying inherent qualities.
3. Datsuzuko (脱俗)
Datsuzuko implies the free-spirited nature of Zen designs. Free of habit, this allows graceful lines to mold the master bathroom into a elegant space filled with a calming energy that relaxes and restores the nerves. Datsuzuko allows you to step out of your comfort zone, think outside of the box, and create something utterly amazing and equally authentic.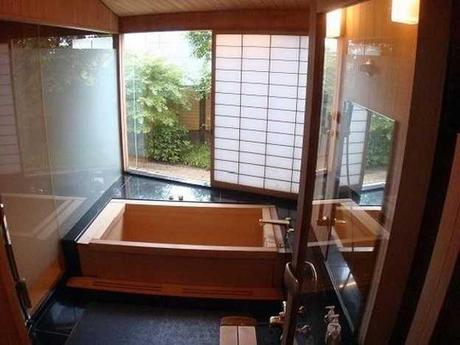 Small bathroom design with a soaking tub and a sliding exterior door in Japanese fashion. Source: Lush Home
4. Yugen (幽玄)
Yugen runs hand in hand with Shibui. While Shibui tends to almost conceal features, Yugen will suggest the revelation of these details. Japanese designs are a collection of subtleties and symbolic elements that each play a special role in the character of a room. By implying rather than announcing, you show more by showing less.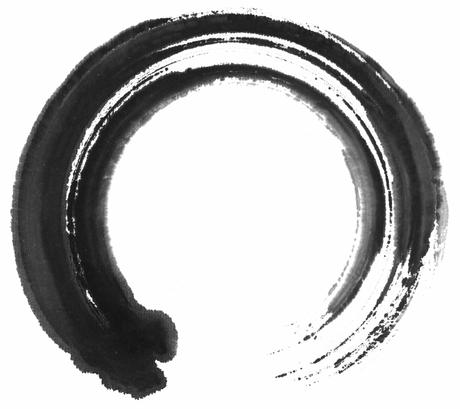 The ensō symbolizes absolute enlightenment, strength, elegance, the universe, and mu (the void). It is characterised by a minimalism born of Japanese aesthetics. Source: Awakening Journal
5. Fukinsei (不均整)
Fukinsei is what you might think of as more contemporary in nature. Fukinsei is a principle that embraces asymmetry and irregularity as a beautifying modifier. The ability to control this imbalance is one of the core tenets of Zen aesthetics. For instance, the Enso or "Zen Circle" is always drawn as an incomplete circle. This is done to symbolize the natural imperfection that all things retain. Creating perfectly rounded circles can appear to be surreal and synthetic. Fukinsei underlines the perfection of nature.
6. Seijaku (静寂)
Peace, calm, solace, and tranquility. Seijaku embodies all of these qualities. Take a moment to take that in. Now, Seijaku is a principle that crafts the emotional feeling that is experienced in a Japanese bath design. It is something that is entirely foreign and undeniably inimitable. Escape from the hustle and bustle and get lost in seclusion.
7. Shibui/Shibumi (渋味)
Sometimes, a diamond in the rough is more valuable than any rare stone that can be encased in glass. There's something about discovery that is much more memorable. Shibui means bitter tasting in a literal sense. This concept presents the idea that the focal point doesn't always have to be made evident. Shibui pulls back from flashy designs that catch the eye. Instead it allows the feature of a design to be much more subtle and unforeseen. This can be intertwined with the aforementioned ideals that emphasize simplicity including Kanso and Seijaku.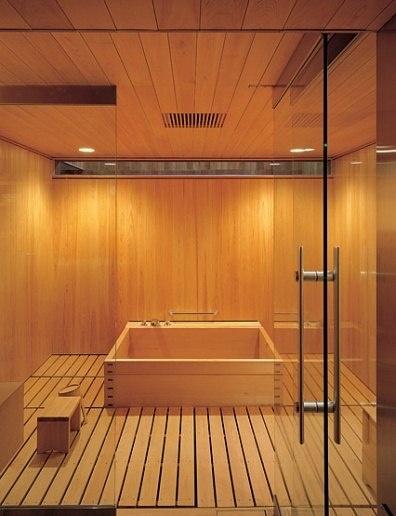 Source: Architectural Digest.
"The best kind of friend is the king you can sit on a porch swing with, never say a word, then walk away feeling like it was the best conversation that you ever had."
-Arnold H. Glasgow
I recommend reading these:
Master Yoda's Guide to Bathroom Remodeling
About the Author
Cheryl Khan is an interior designer and freelancer. While she is not a "tree-hugger," she does believe in responsible environmental and social living. She encourages everyone to take small steps toward making the world a better place!