The tapestry records key moments in
the history of Scotland from pre-history to modern times. It was stitched by groups of volunteers from around the country. Over 18 months, a total of 65,000 hours of stitching has created 160 stunning panels.
It was completed in the summer of 2013. It's now being toured around the country to different venues. If you haven't seen it yet, get to it if you can! Apparently there are plans for it to be in Aberdeen early next year, and in the Scottish parliament building again next summer.Here's just one of the panels. It depicts the first Edinburgh International Festival in 1947. The circle in behind the cello and fiddle is a replica of the Princes Street Gardens floral clock from 1947.This panel was stitched by:Jo AllenAnn CampbellMairi CampbellHeather DavidsonAlice HendersonEleanor HortonJackie Kemp Jan KerrLe-Anne KohSue LougheedDelia MarriottJanis McGravieMoira NelsonKirstin NorrieSigridur OladottirFfion RevilleFiona RochePatsy SeddonHeather SwinsonLinda SwinsonMargareta ThomsonCatriona White
Lois Yelland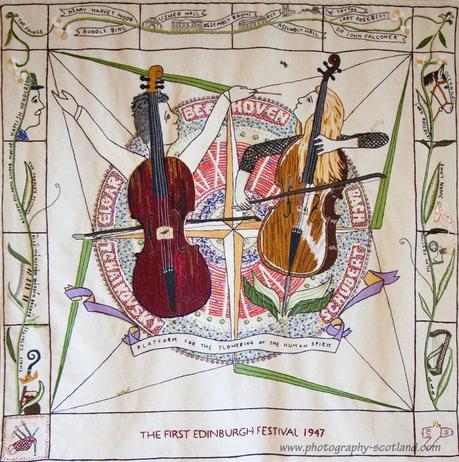 Work has now started on a new tapestry: The Scottish Diaspora, which will be completed and on display in 2014, as part of the Homecoming celebrations.
Google+

Ros Gasson