Some (more) thoughts on Wagner's Parsifal.
by Paul J. Pelkonen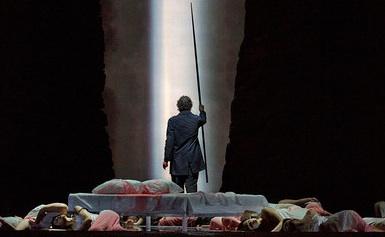 "You know where you can find me again." Jonas Kaufmann in Act II of the Met's new Parsifal.
Rehearsal photo by Ken Howard © 2013 The Metropolitan Opera.
Why is it that whenever I'm having one of these days where I'm feeling blocked and vaguely like I can't write
anything
, that I can always turn to one opera for support?
That opera is
Parsifal
. Wagner's final stage work not only has amazing music, but it also has a timeless, quasi-religious quality to it, the sound of spiritual meditation and yes, even prayer. Regular readers of this blog know that this is an opera I write about regularly, when a new CD or DVD recording comes out. With the Met about to open a new François Girard production tomorrow night, this is the time to stop and think about what this work means, both to me and in general.
I own a lot of
Parsifals.
(Eleven at last count.) In fact, it was the first opera that I ever owned a recording of on CD when I was in college. That was the 1985 James Levine recording from the Bayreuth Festival, a set I first encountered because it featured the beautiful Waltraud Meier as Kundry, the opera's lone female character. (In fact, this recording is the longest one in the catalogue, timing out at 4 hours and 26 minutes. Mr. Levine's
Parsifal
is not for the faint-hearted.)
I first saw
Parsifal
 on a PBS broadcast (starring Siegfried Jerusalem and Ms. Meier, and conducted by Mr. Levine), one that I had videotaped even though, like Wagner's title character, I didn't wholly understand what I was watching. I had seen the
Ring
but I didn't get this.
I got my first recording of the opera for Christmas in 1993. The following semester,  my Fordham floormates would have to contend with occasional choirs of brass and loud female screams (from Ms. Meier) as the drama of the Grail Knights and the Spear unwound itself in ponderous fashion. (Yes, they thought I was out of my mind.) That recording was eventually joined by the 1966 Karl Böhm
Tristan
(which sent one girl running screaming out of my dorm room!) For graduation, I received the Boulez
Ring
and my collection (which now takes up four bookcases in my Brooklyn apartment) was on its way.
As I went to grad school and started moving towards a writing career, a review of
Parsifal
was my first music clip. This was for
Wagner Notes
, the newsletter of the
Wagner Society of New York
. I wrote a review of the VHS film of the Berlin Staatsoper's production by Harry Kupfer. It also starred Ms. Meier and introduced me to the conducting of Daniel Barenboim, another skilled Wagnerian.
In April of 1995 (when home in New York for Easter weekend) I saw my first
Parsifal
at the Met (on Good Friday, no less!) with Plácido Domingo in the title role and Dame Gwyneth Jones as Kundry--one of her last performances at that house.
A few months later, I got my hands on my first copy of the 1962 Hans Knappetsbusch recording (linked above) from Bayreuth with Jess Thomas, Hans Hotter and George London among a luminous cast. This is still one of the best "headphone" recordings--the Philips engineers picked up just enough noise from the theater that you feel like you are sitting on one of those hard Bayreuth seats in a sweltering Bayreuth summer, watching the mystery play unfold. I also regularly recommend Pierre Boulez' 1970 recording (at left) which clocks in at just three hours and 38 minutes.
Parsifal
is both an opera and a sort of ritual, an exploration of medieval Christian mythology (specifically the
Parzival
story and the story of the Fisher King, that can offer one healing in dark times. Whether you adhere to Wagner's concepts of redemption and self-knowledge through denial and suffering, or just swoon at the sound of organ-like woodwinds in a lush couch of strings, this opera is welcoming to all.
Next Monday evening, at 6pm, I'll be there among the faithful. A review will follow.