We loved this cake so much we just 'had' to share it with you...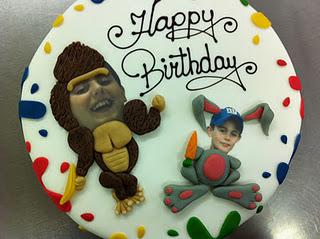 A client needed a birthday cake for both his boys who happen to have birthdays very close together...  Our 'Super' Dan & Vincenzo had one of their legendary brain storming sessions.. more cake than a girl can take so I usually stay well away.. the room is just too charged with male bonding.. things... & cake.. & stuff...
Anyway.. here is the result 'a brilliant, cute, quirky & highly original cake design' (said the boy's Dad !)... your next cake is FREE my good man!
We really like it & hope you do to.  All you need to do is email workable images of whoever you'd like to feature on the cake & Daniel will chat you through ideas for how to 'decorate' them.. maybe their favourite superhero.. film star.. cartoon character... royal...sports person... 'YOU DECIDE'... as they used to say on Channel 4... and now on Channel 5 !!! 
SORRY.. if you're reading this outside the UK & have no knowledge of British telly... you will not get my last joke... (not actually that funny)