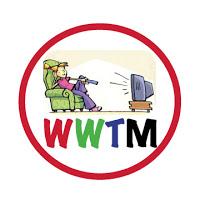 THE ANSWER TO MONDAY'S TRIVIA QUESTION: Jeff Daniels plays Will McAvoy on Newsroom 
FIRST FIVE: Crystal Kyler, Nicole Zittman, Kara Brennan, Alex Nagler & Bob Kaplan
HONORABLE MENTION: Ali Accarino
THE NUMBERS 
Friday's Cable Top 5
Gold Rush-Discovery 1.2/3.5
WWE Friday Night Smackdown-Syfy .7/2.6
American Dad-Adult Swim .6/1.5
Big Bang Theory-TBS .6/1.7
Big Screen Movie-ABC Family .6/1.3
Sunday's Broadcast Top 5 Sunday Night Football-NBC 7.0/22.0
Football Night in America-NBC 5.6/17.2
The Simpsons-FOX 3.5/7.6
Once Upon a Time-FOX 2.7/7.9
Family Guy-FOX 2.5/4.8
Sunday's Cable Top 5
NA
Sunday's Top 5 Nielsen Twitter Ratings
The Walking Dead-AMC 511,000 Tweets
Once Upon a Time-ABC 87,000 Tweets
Talking Dead-AMC 31,000 Tweets
Revenge-ABC 26,000 Tweets
Homeland-Showtime 6,000 Tweets
Top 5 DVR'ed Shows for the Week Ending 10/5/14
How to Get Away With Murder-ABC From a 3.2 to a 5.5 (+72%)
Big Bang Theory-CBS From a 4.8 to a 7.0 (+46%)
Modern Family-ABC From a 3.6 to a 5.7 (+58%)
Gotham-FOX From a 2.8 to a 4.7 (+68%)
Blacklist-NBC From a 2.8 to a 4.7(+68%)
Just a note about Parenthood: The show had an 85% increase from DVR viewership. It went from a 1.3 to a 2.4. Biggest increase over any other show and since it's one of my personal 
faves, I thought I'd mention it. 
THE SHOWS
The Good Wife
So much in 42 minutes right? Kalinda had sex 3 times with 2 different people, figured out who the cyber terrorist was, and got the computers back online with about a minute to spare. (Countdowns are ALWAYS down to the last minute aren't they?) Alicia and Elsbeth faced off twice and never got anywhere. What is Elsbeth's affliction? ADD? Finn was endorsing Alicia then he wasn't then he was. Peter was endorsing her too. Then he wasn't, but  after Alicia let him have it, he did show up. He gave her a kiss and his support. Could it be that Florick/Agos/Lockhart kicks Lockhart Gardner out and takes over their lease? Diane really misses her big cushy bugless office badly. David Lee will lose his mind if he has to give it all up. That'll be awesome. Was it my imagination or did Jill Hennessey have WAY too much make-up or self tanner or something?  She looked SO dark, especially compared to Julianna Marguilles's alabaster white skin. 
The Affair
I watched the 2nd episode and it's realllllly slow. REALLY SLOW! Yes there's always 2 sides to the story (actually 3 when you get the truth in there) but we don't believe either one of these guys, do we?  We've already caught them both lying to the police. I don't know if I have the patience to see how this all plays out. I don't like Noah and Allison enough to care. Sunday's are getting nutty again, so lets see how long I can continue with this. 
Jane the Virgin
I had seen the pilot of Jane the Virgin during upfront season and thought it was cute. I tuned back in last night since it's been getting a lot of great press and since a lot of you guys seem to be enjoying. I do like it. It's cute. A lot going on, but between the reminder notes and the narrator, it's easy to catch up and keep track of all the different story lines. The show is based on a telenovela and you can absolutely tell. It is a soap opera with twists and turns  and some fun vehicles. You have to throw out the idea of reality though. The plot's a bit crazy. Jane's a virgin. She's a Hispanic, Catholic girl with a serious non Hispanic boyfriend who's obviously VERY patient. She accidentally got artificially inseminated by a lesbian OB-GYN who was supposed to be inseminating her own sister-in-law. So net/net she inseminated her brothers "boys" into Jane who was just in her office for a check up. Now, see if you can keep this straight. The brother wants the baby and a divorce. The wife who didn't get the "boys" wants the baby and is cheating with the baby daddy's best friend. Jane was GOING to give them the baby BUT Jane's boyfriend is a cop and he's caught the wife and the BF together because the BF is being investigated for criminal activity. Jane also learned that the baby Daddy wants out of the marriage. Also something to know. Jane's Dad is a famous actor in a Telenovela who never knew about Jane. When Jane's Mom saw him on TV she got in touch and told him about Jane and now he wants to meet his daughter.  Lots going on right? That's only the 2nd episode. This is SO not a guys show, so if you're going to force your guy to watch one show with you a week, this one's not the one. Especially with Monday Night Football, Hockey and Basketball as options, no way he's watching this one. 
THE OTHER STUFF
-If you are a Dish Network customer and haven't turned on CNN yet this AM, don't bother. Right now all of you Dish people don't have it. In fact you don't have any of the Turner nets as they are all involved in the latest retransmission disagreement. Dish and Turner are fighting it out. Hopefully you guys get it back soon. 
-I guess money isn't everything, huh? If it was, then Bethenny Frankel would be home chilling with her daughter and enjoying the Fall in NYC. Fame's addictive and it seems Bethenny needs her fix so badly that she's heading back to where it all started, Real Housewives of NYC. I bet Jill Zarin's head is exploding and she's got Andy Cohen on speed dial. Gotta admit, I gave up RHONY but I'm def going to check it out now that Bethenny's back. Good move, Bravo. 
-Coincidence? Not sure. HBO launched Sonic Highways last Friday and now, Showtime is setting itself up to be THE destination for music documentaries. You know how I feel about music docs, I LOVE UM!  Tuesday nights at 10pm will be the destination for these specials on Showtime 2 (I have to check that I have that one. Remember, I'm a Cablevision house) 
Some of the docs coming feature: Genesis, Mumford & Sons, Rolling Stones, David Bowie, INXS, Billy Joel, Green Day and Springsteen. Once I have dates I'll try to include on the Premieres and Finales list. 
-FX is really into their Simpsons. First the every-episode-ever marathon and now Simpsons World. Starting today, you can access a new online Simpsons experience. All past episodes, tons of clips, fun facts and all of the new episodes from the current season will be available the day after they launch live. Just check it out on the FXNOW app. 
-Yeah Chrisley fans (that's me!) USA has already renewed the show for a 3rd season and we are only 2 eps into Season 2. 
-How old do I feel when I read that the 30th Season of  MTV's Real World will premiere December 16th. New idea to keep it fresh: Skeletons in the Closet. Yep, each stranger in this cycle has a past and that person from the past will also be showing up in Chicago where this season's taking place. Won't get me back but interesting idea.
-Guess how much a 30 second spot in The Oscars is this year? Guess…forget it, you'll never get it (unless you work at ABC that is) $1.9MM according to The Wrap. 1.9MM and it's nearly sold out. I am telling you, NPH drove the price and the demand up. The show's gonna kill, I just know it. Last year, the show was seen by 40.3 million viewers and delivered a 10 RA18-49 which was up 11% vs the previous year. I'm thinking 15 and 42 million viewers. Maybe more. 
Tuesday's Trivia Question: Before Peter Krause was Adam on Parenthood and before he was Nate Fisher on Six Feet Under, he was this guy on Sports Night. Name his character and his partner on the show. 
WWTM-Kristy Like me on Facebook at Watching Way Too Much
Follow me on Twitter at [email protected]
http://watchingwaytoomuch.com
[email protected]