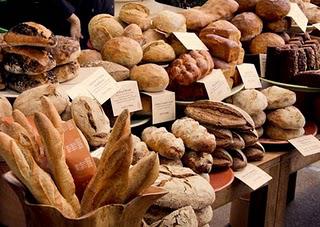 It's

Friday morning

. I've been in Dubai long enough now that I don't accidentally call it Saturday any more. To my right is the aroma of fresh cut herbs and earthy vine ripened tomatoes. To my right, the alluring nutty aroma of artisinal bread. I can't stop myself from running my fingertips across the tops of outstanding and upstanding chives - a welcome change to the droopy, supermarket-refrigerated version. And I am staring at the

Holy Grail

. The highly sought after and seldom found, local free range egg. It's hard not to break into song.
I'm at the "

farmers market

", a weekly affair organized by and held next to Baker and Spice at Souk al Bahar. It's small - only a few stalls - a far cry from the whole-oval affair at the St Kilda Peanut Farm back in Melbourne. The buskers, the chai brewer and the gourmet hotdog man are missing - but it is, nonetheless, an excellent attempt to help Dubians to understand the possibilities of the region, and give them the ability to purchase food that has a carbon footprint smaller than the shadow of a blue whale.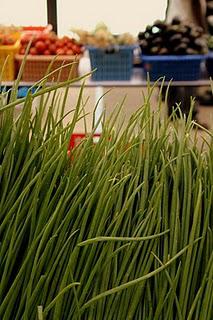 The peppers are the first to grab my attention - a visual smorgasbord of waxy color - red, green, purple and orange, and some finger-chillies that pop like fire crackers - all 5 dirhams a packet, very good value. The scent of the tomatoes transports me to Granny's back yard in West Rosebud, and I buy them by the bucketload with swathes of purple basil and a thought of combining them with something magical and goaty from the

Galeries Lafayette

cheese-room. The cauliflowers are grapefruit sized and pink tinged, and I recall a Suzanne Husseini recipe for fritters I have been meaning to try out.... "two please".
I linger at the central stall and speak with the happy honey-man. He sells three varieties - different flowers, flavors and prices, all helpful in building immunity and defending against allergies to local pollens, because they are, of course, local. I buy the middle one - not for the health benefits, but because I suspect the deep brown goo might just be ambrosia. He also sells fresh labne in re-fillable bottles.
The stall holders are talkative, which is lucky - everyone has questions: Organic? Location of the farm? Irrigation techniques? Home delivery? The answers vary from stall to stall, but there is one constant - Everybody here loves fresh food.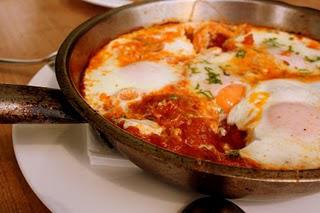 Just like back in Melbourne, a morning's shop can be rewarded with a cooked breakfast nearby, and we follow our noses to the coffee at Baker and Spice, hoping they will do a better job at the machine than the effort we received at Dean and Deluca next-door a few weeks back.... Unfortunately not. A sole barista toils at the $20,000 machine turning out expensive but average slop at about 2 coffees a minute - not appropriate for a restaurant with over 100 patrons. As is common for the region, although we ordered them first, our coffees arrive after our food. It's not the coffee-maker's fault - poor systems and training again turn what should be easy into unhappy labor. The waiters also have a bizarre pecking order which keeps four very busy and the others simply looking busy. I think I need to start consulting in restaurant service techniques - it's a debacle, but a calamity that is far from rare in this town.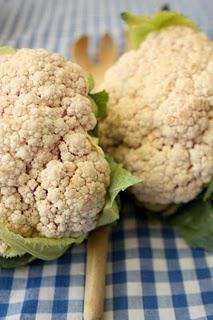 The breakfast however is superb. My husband and I shared a local egg dish (meant for two), which came with deliciously crunchy bread. It's an oven-baked concoction of rich and spicy

chunky tomato sauce

, with the eggs baked into it. We nearly licked the pan. The kids'

hot chocolate

was Mexican style, thick and intense - requiring extra milk for them, much to my horror at the adulteration of something so wonderful.
So - home with my pretty peppers and splendid assortment to make my own recipe for ratatouille, Suzanne Husseini's cauliflower fritters and to imitate Baker and Spice's superb egg dish. Happy days...
The farmers market runs

every Friday from 10am

. There was still plenty of good produce available at midday. I'm not sure what tha plan is when it warms up in a month or two - hopefully it will move inside. There is easy covered parking at

souk al Bahar

, entry next to the Palace Hotel.
You can find the recipe for my Ratatouille hereLeave me a comment and make my day...