The Good News Keeps Flowing
Amazing news for a Tuesday afternoon!  We have just heard that we are through to the Regional FINALS for the 2017 Wedding industry Awards!
Thrilling news to receive after all the hard work put in this year, along with the amazing support shown by all our wonderful clients.
Without them taking the time to cast votes and give feedback – it just wouldn't have happened.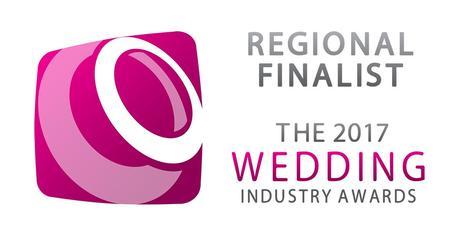 2017 Regional Finalist in the National Wedding Industry Awards
It's been a massive year so far, with so many developments from a handful of awards to more importantly rapid creative growth.  Creativity has a degree of momentum, but what excites me most are the plans ahead for 2017 and onwards.  New ventures into video, incorporating it into unique presentations that will really stand out from everything else available within the current wedding market.
This along with polishing further our client service experience, and growing our Associate Photographer client base – so many plans, but hell yeah – its great fun, all the way!
It's great to see all the names through to the Finals and will look forward to meeting them on the evening of 23rd November when the over all winner from each regional category is announced.  Fingers crossed for a great evening ahead in Bristol.
A trip away but a little bit of home from home, with so many talented Poundbury suppliers joining me.  Bridal Reloved, Angel Cake Company, West Dorset Wedding Flowers.  It seems that Poundbury has most of the wedding suppliers you could ever need – flowers, cakes, dresses, and photography!
If you are planning your own wedding and like our style of photography, please don't hesitate to
Get in Touch
…more of our      Dorset Wedding Venues

Author:

 Linus Moran http://linusmoranphotography.co.uk

Hi I'm Linus, a Dorset Wedding Photographer offering Documentary Wedding Photography and portraiture throughout Southern England and the UK. I aim to capture your decisive moments unobtrusively as an observer, leaving you at ease to relax, have fun & enjoy your guests!
Related posts

St Mary's Church Puddletown Wedding Photography
27/10/2016

1st Place International Winning Wedding Photography – Amazing doesn't come close!
19/10/2016

Ian & Adele's Athelhampton Wedding Preview
18/10/2016

Sherborne Castle Wedding Photographers | Sophie & Allen
13/10/2016

Lulworth Wedding Photography | Jade & Scott's Wedding Preview
30/09/2016

Autumn Wedding at Athelhampton House
29/09/2016