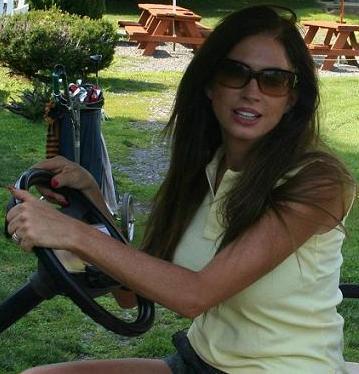 Golf needs Golf Girls.

Golf Refugees are happy to invite the original Golf Girl; Patricia Hannigan, famous for blogging in her bikini, to share with us her views on the 'perception of the perfect golf course'.
Naturally we're big fans.

The golf/real estate boom ... the one that ultimately turned into an unsustainable bubble and ended in the current economic downturn... created the expectation that a golf course, even a public or municipal course, would always be manicured and landscaped to an over-the-top, state of perfection. The Trump courses are the epitome of this, and sadly, they've set a standard. The fact is, these days many American guys expect to play on courses that emulate this standard, and they complain…loudly… when a course is left more "natural". They've convinced themselves that at such courses they'll play badly... because the conditions are not up-to-par, ie. Trump standards/PGA Tournament standards. The thing is…these guys are simply your average recreational players. Their expectations have gotten totally out of control.

Add to that the fact that a huge percentage of our "core golfers" come from a demographic... wealthy, white, US, male, republican, age 40 - 60... that categorically denies the existence of global warming and feels that anything labeled "green" is ridiculous and a passing fad.

This makes me feel that much of the talk about environmental stewardship in golf course design & maintenance is simply a disingenuous attempt to "appease the 'crazy environmentalists' out there".

Of course there are many who care deeply about the environment, particularly those in a younger demographic...the potential golfers of the future …but even if they're attracted to golf, they won't want to take up a sport that's perceived as "anti-green" and bad for the environment... Some course owners/developers understand this are striving to actually design and maintain courses in an ecologically sound way... but in many cases those course are struggling. Justin Timberlake is one high-profile example. He's put his heart and soul ... not to mention a massive amount of his own money into creating an environmentally friendly golf course, but many complain that it's not manicured enough.

Golf... particularly over here in the US… is in a tough position because of a generational shift. In order to keep their core golfers from straying to other courses, the owners need to keep their own courses looking like Augusta National... on steroids. At the same time these owners must know that future generations are not going want to take up a "clueless, old guy's game".
You can read more blogs from The Golf Girl;
http://www.thegolfgirl.blogspot.com
--------------------------------------------------