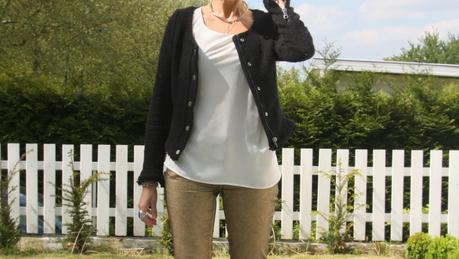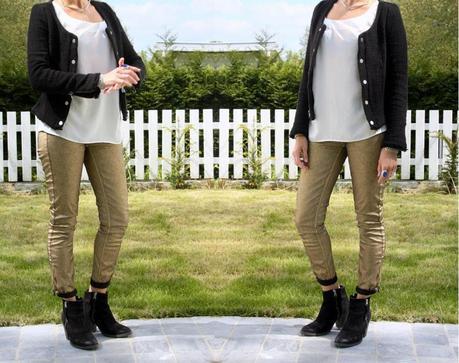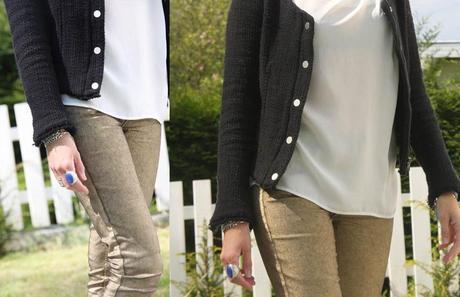 Black tweed jacket - Zara
Gold jeans - Zara (FW 2011)
Ecru top - Zara
Ambush Boots - Topshop (old)
bracelets and rings - ASOS
I always love a good deal and when I found these gold jeans at Zara for 7,95 € at the end of the winter sales I couldn't leave the store without them. A pair of metallic jeans is definitely not a must-have in a wardrobe but I have come to realize that they are very useful when you're lacking outfit inspiration to go out. I like to dress up to go out even when it's only for dinner, and with these gold jeans I just need to wear a relaxed top and a white or black blazer and I'm good to go. And to tell you the truth I always receive tons of compliments so I'm guessing that they make quite an impression. I also like combining these gold jeans with silver jewelry, long gone were the days when mixing gold and silver was tacky, now everything is allowed !
Here I'm wearing the gold jeans with my favorite jacket of the moment, a Zara black tweed jacket
very much
inspired by IRO's Agnette jacket (shown here). I paired this look with boots to be more casual but if I'm going for a night out I usually wear gold jeans with pointy-toe black pumps.
As you have guessed, I can only recommend you a pair of gold jeans if they fit your style (and if they don't, you should try them too !!), I'm sure that you will not regret it. If you're interested, here are some of my favorite styles.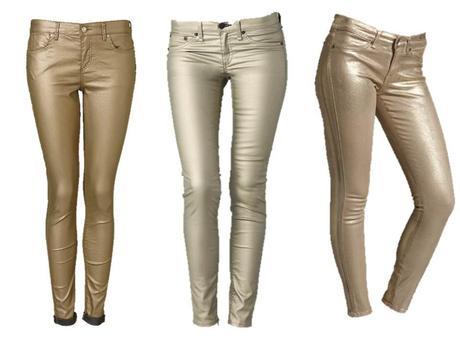 Topshop jeans, Rag & Bone jeans and
Rich&Skinny jeans
Now, I'm curious to know what you think about gold jeans, please share !
xx Marta