October 11, 2012 - July 8, 2013
After having both found jobs, J working in a call center and myself working in a shoe shop, it was nearing to the end of our time in that gorgeous flat in Bruntsfield.Having grown attached and having some anxiety about leaving, I was put to the task of finding us the 'flat,' with the responsibility of also looking on behalf of a friend who was thinking of moving to Edinburgh from England to live with us. So I was now looking for two double bedrooms, not just the one.I started with looking on Gumtree, but didn't find much and having the help from the 2012 List magazine's edition of Student Guide, I had a look at spareoom.co.uk.And one of the first places I saw was just what I was looking for. Two double bedrooms, not far at all from where we already were, literally up the road actually. I thought I had struck gold, but in some ways I hadn't.We moved into the double bedroom at Gillespie Crescent on October 11, 2013. While I working, J carried our two backpacks, a suitcase and grocery bags, via taxi and moved us in.Around midday when I was on my lunch break at work, I had a few missed calls from J. After calling him back, J in a panic was asking why in the hell I had given the okay to live in the flat, when the mattress had been left in a disgusting way from the previous tenant and the carpet was also gross. Not exactly what we were used to.Oh no… and that was the beginning of our time in the 'flat.'Though we found out our friend who was supposed to move in with us had changed her mind at the last minute, we were going to be okay.When we first moved in, we lived with six Spanish people; made up of one couple and a guy from Barcelona, two ladies from Seville and Cadiz, a guy from Zaragoza (wherever that is in Spain) and then a Hungarian guy. And it has been a great place to live, learning more about Spain and Hungary, sharing food and having some great flat parties and even cooking them an Australian dinner.On the way we've lived with even more Spanish folk, two young English lads, a Canadian couple, a young French guy, and a Scottish guy (whom we're hoping will visit us in Australia).

It has been quite the adventure living here, and we will miss it, we just won't miss the landlord.There are a list of problems we've had with her weird ways since moving in; including her staying here for five nights with her husband and daughter and cleaning between Christmas and January 2, and then having the audacity to charge us for the cleaning. Needless to say, we've seen the good, the bad and the ugly living here, and it has been quite the good time, but we're looking forward to our next home in Edinburgh. What I'm trying to say is that we're a bit worried about getting our £500 deposit back.
A flat again - not too far up the road from where we already are, this time in Marchmont, with a young Australian married couple.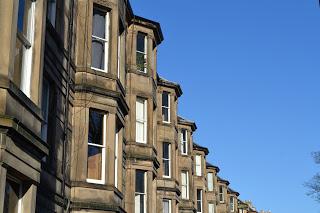 Our the flats in our street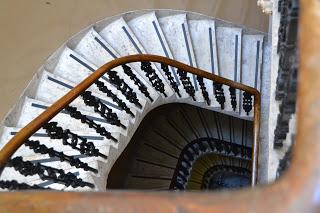 The staircase in our flat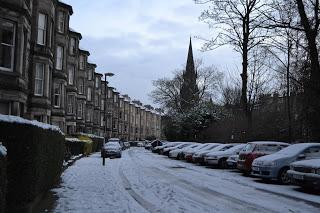 Our street after it had snowed over night