James Levine may cancel 2013-2014 performances at the Met.
by
Paul J. Pelkonen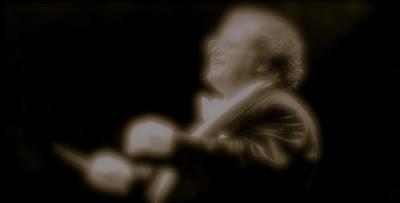 The presence of conductor James Levine is fading from the Metropolitan Opera House.
Reports out of the Metropolitan Opera House  indicate more cancellations for James Levine.
Subscribers to the Metropolitan Opera's 2012-2013 season are already too aware that this is the company's first season in four decades without the presence of music director James Levine. But they may have to wait even longer to see the acclaimed conductor back at work.
An item in today's edition of parterre box indicates that the Metropolitan Opera has abandoned plans to revive Wagner's Parsifal and Tannhäuser next season. According to parterre's anonymous source, the
 likely replacements for these two works would be a revival of Antonín Dvořák's
Rusalka
and Alban Berg's
Wozzeck.
These two Wagner revivals were specifically tailored to the talents of Mr. Levine, a dedicated Wagnerian who has conducted these operas many times in his career. Parsifal, Wagner's final opera, is considered to be one of his specialties, a work he has recorded on three seperate occasions.
These performances of Parsifal would have been the second run of the company's new François Girard production of the opera, a collaboration with Opera Lyon. The cancellations also may mark the death knell for the Met's production of Tannhäuser, a popular, realistic staging by the German team of Otto Schenck and Gunther Schneider-Siemssen, which included a realistic depiction of the historic Wartburg castle in Thuringia, setting of the second act.
The article went on to state that the company was also cancelling its plans to revive Kurt Weill's
The Rise and Fall of the City of Mahagonny
, an audience favorite. The performances of
Mahagonny
would be replaced by repertory works that were yet to be announced.
Mr. Levine still holds the post of Music Director at the Met, but has not conducted there since a May 2011 performance of
Die Walküre
. His plans to return to full-time work with a new production of
Don Giovanni
in October of 2011 were delayed indefinitely after the conductor suffered a fall in New England in September of that year.
The fall led to the hurried elevation of Fabio Luisi to the post of Principal Conductor. Mr. Luisi went on to conduct the
Don Giovanni.
He also assumed Mr. Levine's duties in the company's new productions of Wagner's
Siegfried
and
Götterdämmerung
, the final sections of a new production of
Der Ring des Nibelungen.
This
Ring
cycle is due for DVD release on September 11th of this year.
Mr. Levine still retains a salary and an official involvement in artistic matters at the opera house. He was scheduled to mark his return to conducting at the Met with these three operas, along with a season-opening new production of
Eugene Onegin
and
Falstaff.
Presumably, these dates will be filled by Mr. Luisi.