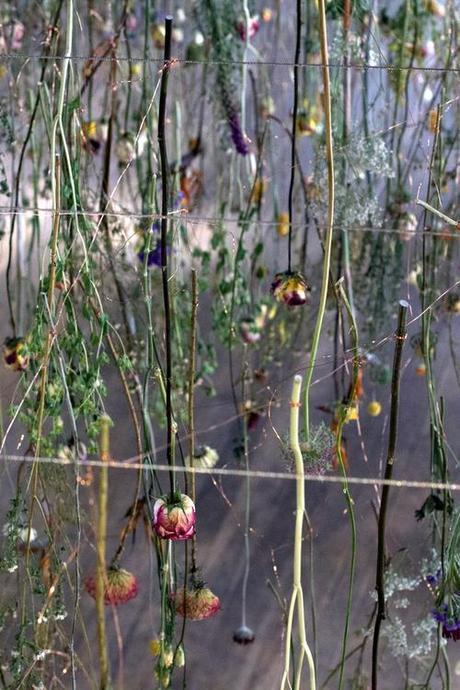 Inspired by a suggestion from my lovely colleague, cultural-magpie Ludvig, I took a trip to London last Wednesday to visit the exhibition of Fashion and Gardens at the Garden Museum in Lambeth.
The exhibition explores the relationship between fashion and garden design, considering how fashion designers throughout the centuries have been inspired by nature and the things we grow in our gardens.
I've spent many an hour poring over the pages of Garden People, the book showcasing the work of gardener and photographer Valerie Finnis as she photographed her favorite garden people – prominent individuals in the world of gardening in the 1950s. So the fact that her image of Lady Birley was used to head up the exhibition made it a must see for me, Jonathan and my friend, Lizzie Locke, the hatter, a fellow enthusiast of eccentric garden style.
From silken embroidery to the hardier garden wear, the exhibition took a chronological wander through how people dress to garden or spend time outdoors - building on the seasons and the plants available to us throughout the ages. Fashions have been dramatically affected by gardens and the things grown in them and this came across wonderfully in the concise exhibition, from the way in which gardeners were required to roll the lawns in the 17th century to make it accessible to ladies walking in their delicate house shoes, to the influence of gardens on contemporary fashion designers such as Alexander McQueen and Philip Treacy.
Hats were a big thing, and it was fun to watch self-proclaimed hat nerd Lizzie gathering inspiration from old photos of baskets worn to protect lavish hairstyles, some so opulent that they were embellished with living flowers fed by discreet water-containers. Hard to imagine that such a thing ever fell out of popular fashion.  
The exhibition was framed by a staggering display of over four thousand flowers hanging from the ceiling - a creation by floral artist Rebecca Louise Law - and the excitement carried on outside as we wandered around, then enjoyed a splendid lunch in the museum's own delightful garden, which seemed to be half planned, half chaos – precisely my favorite type of garden!
I could quite happily live in the Garden Museum if the opportunity were to present itself, but in the absence of such an event, I'm going to while away some happy hours reading the exhibition catalog over and over instead.
Enjoy the pictures we took and do try to make it to the exhibition which is on until 27th April.
Garden Museum
Lambeth Palace Rd, London SE1 7LB
Tel: 020 7401 8865
http://www.gardenmuseum.org.uk/