So you've seen The Future of Vintage, and it's bright! Like it? Then here's the English Wedding blog's guide to getting the look! All images are by the wonderful Jonny Draper.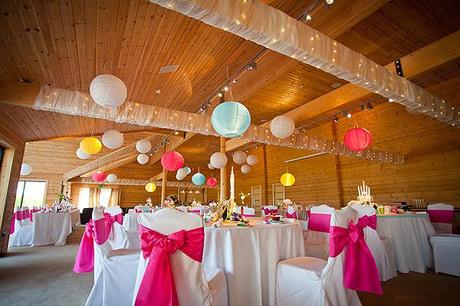 The Future of Vintage: Decorate a neutral venue like Styal Lodgewith pretty, bright colours
Decorate your wedding venue in brights, but keep sight of the prettiness of vintage: use paper lanterns in a few bright shades, and add splashes of colour with chair cover sashes and table decorations. Fairy lights always look fabulous (especially as day turns into evening).
Top tip: choose a wedding venue to fit your colours, somewhere without extensive decoration or dark colours on the walls or floor. Styal Lodge is perfect: with a pale carpet, light wood walls and windows everywhere, it's a really versatile wedding venue for any modern or Future of Vintage theme!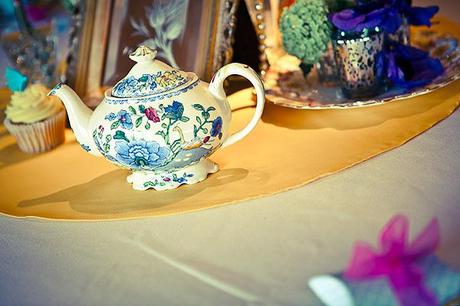 The Future of Vintage: find brightly coloured vintage china like this teapot from Pink Pepper
Patterned and antique china is key to all contemporary vintage-inspired weddings. Update the classic pastel look with bright designs and quirky shapes, like this pretty vintage china teapot from Pink Pepper catering.
Top tip: if you find a piece of china you fall in love with, you could base your wedding theme around it! The table cloth, cupcake icing and decorations in this photo – even the bow on the wedding favour – all use colours from the floral design on the teapot. It's a great way of creating a cohesive and colourful vintage inspired wedding theme.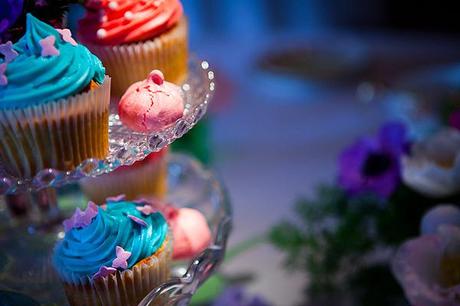 The Future of Vintage: go for out-there colourful cupcakes. These are from And The Dish Ran Away With The Spoon in Manchester.
Don't be afraid to use colour! These cupcakes from And The Dish Ran Away With The Spoon are different, fun and promise to be a talking point for your guests. Cupcake stands were invented for vintage weddings (well, they could have been!) and dotting bright little meringues around them will add more prettiness to the display.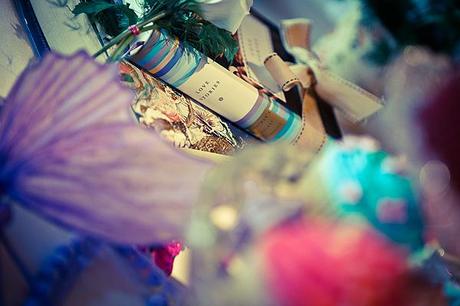 The Future of Vintage: antique books will always look fabulous as a key part of a vintage wedding
Old and antique books are a staple for vintage wedding themes. Find brighter covers and tie with pretty ribbons to update the vintage look for your theme. A little pile of romantic books will always add style to your wedding theme. Mills & Boon, anyone?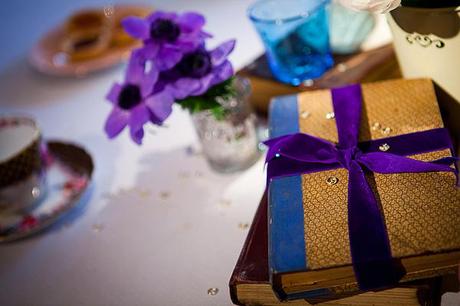 The Future of Vintage: match little bits and stick with a few key bright colours
Match ribbons with flowers, china with petals, chair sashes with candles and tie your bright colours together. The Future of Vintage shoot by Jonny Draper uses blues, purples, yellows and pinks to create a fabulous bright colour theme. You could just as easily use turquoise, greens and pink; or sunny oranges and yellows with a dash of blue. It's the little matching details that will make it work.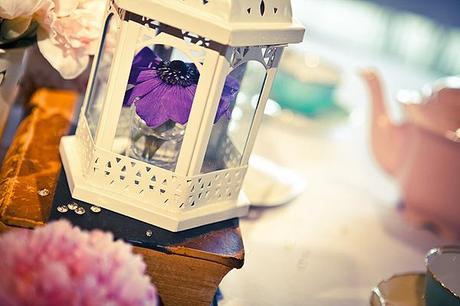 The Future of Vintage: use lanterns and birdcages then add colour!
Lanterns and birdcages are as vintage as it gets. Jazz them up for an alternative vintage theme with bright colours inside. You can even buy bright birdcages and lanterns online, or find white ones and spray paint them in funky shades.
Top tip: if you have white or ivory birdcages and lanterns and you're not sure about painting them yourself, get some brightly coloured butterfly accessories or flowers and stick them on. I love the butterflies from www.featherbutterflies.co.uk.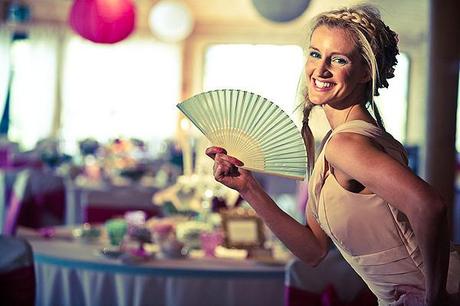 The Future of Vintage: pretty wedding dresses and fun, quirky accessories
Wear your wedding make up bright and summery – if you love colour in the daytime, keep your personality shining for your wedding day too! Our model's make up is fun and funky, by Emma Draper Make Up Artist. She wears a beautifully stylish wedding dress from Charlotte Balbier's 2011 collection, which fits the vintage theme so well.
Top tip: accessorize with fun details: this fan is really cute and fits the Future of Vintage theme perfectly.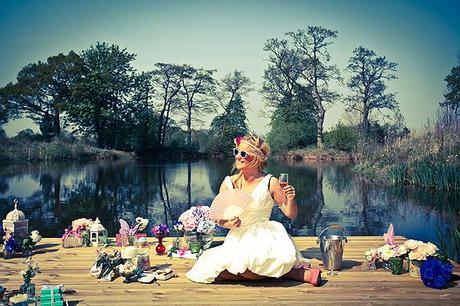 The Future of Vintage: quirky details will make your vintage theme so much fun!
Have fun! – especially with your wedding photos. Don't be afraid to ask your wedding photographer about taking a few little props when you take that little bit of time out as a couple for photos. Poppy's having a great time with little vases of flowers, her fan, ray-bans and accessories everywhere. But you could have some simple and fun accessories to hand: a colourful parasol or fan, a bright shawl, shoes or accessories especially for your wedding photos!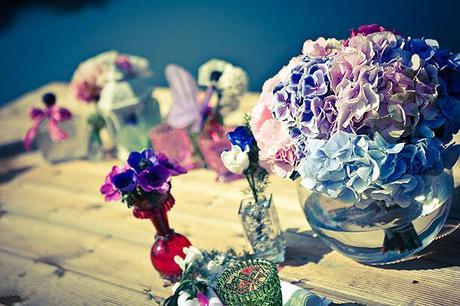 The Future of Vintage: be eclectic. Mix and match!
Be eclectic. These little glass vases and votives with anemones and hydrangeas are really pretty. They don't match, but they do complement each other beautifully. And that's key to working the whole vintage look for your wedding day.
Top tip: start collecting well in advance of your wedding day, but keep an eye on your vase collection in case you go mad! I loved English Wedding Star Bride Sally's story of retro milk bottles, too many vases and creepy clay mementoes this week!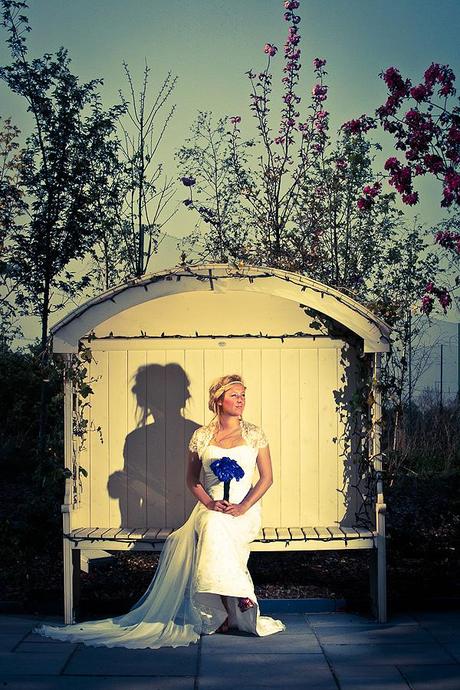 The Future of Vintage: choose a great, imaginative and creative wedding photographer like www.jonnydraper.co.uk
Last but not least: be true to your personality. The Future of Vintage is a fabulous theme, unique and colourful – and bound to cause a stir! I love the colours and atmosphere of this as a wedding theme.
The beauty of vintage is that you can personalise it so well. Take the idea of vintage, turn it upside down and see what YOU come up with. Bright colours? Cute lighting? Lace everywhere? If you've been inspired by The Future of Vintage, now it's your turn to have a go. Let us know if you take the ideas from this shoot and run with them – we'd love to hear how this theme will catch on!
Thanks again to everyone involved in The Future of Vintage shoot, to the team at Styal Lodge, to Charlotte Balbier and most of all wedding photographer Jonny Draper who got in touch to tell me all about this gorgeous idea and rallied everyone around to tell me their stories. Jonny's too modest to say quite how much of this is down to him… yes, really. To everyone involved: You're all fab. Thank you.