Did you see the Flying Bride earlier today on English Wedding's Future of Vintage exclusive? The shoot had so many inspiring pictures I had to share a little 'behind the scenes' – especially for any North West brides looking for creative suppliers, or for wedding businesses thinking about their own creative shoots.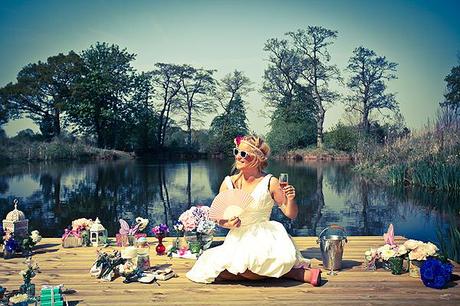 Photography credits: Jonny Draper www.jonnydraper.co.uk
Imagined up by Manchester photographer Jonny Draper and Styal Lodge manager Georgina Higham, this really was a fantastic shoot. Not just for the images and the way it all looks, but for how these guys work so well together.
I've met Jonny a couple of times, visited Styal Lodge and chatted to Georgina and Sarah, and I really felt inspired by them both: shoots like this are just one way they work together; there are also events for brides and grooms, and Jonny is very much involved with other wedding businesses in the Manchester area – organising days to work on social networking skills, sharing product photography and generally growing a successful wedding photography business based around friendship and advice.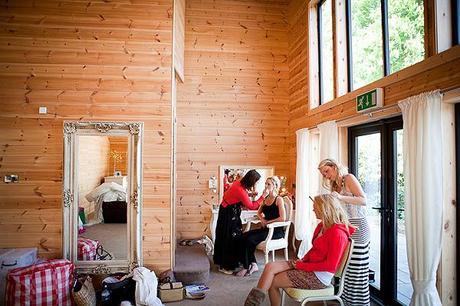 Styal Lodge is a unique wedding venue, newly made and designed especially for weddings. Here make up artist Emma Draper and Eve Broadhurst from bridal boutique The White Closet at work with models Stacey McKenzie and Poppy Higham.
They're in the bridal room at Styal Lodge – a lovely big room adjoined to the main space within the venue, where the bride and bridesmaids can get ready before the wedding. (It also doubles as a quiet room for kiddies during the evening reception, and a safe place to play, chill out or snooze when it all gets too much!)
Gorgeous wedding dresses from The White Closet – all from the Charlotte Balbier 2011 collection – ready for the Future of Vintage shoot. Every detail is catered for at Styal Lodge – the hooks on the wall are perfect for brides and bridesmaids getting ready on site.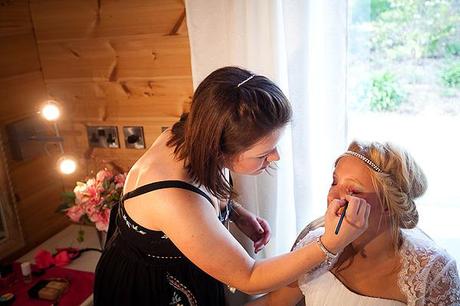 Emma Draper is a make up artist based in Didsbury, Manchester. She used candy bright pinks and blues for our Future of Vintage brides – Poppy really looks fantastic with these bright, summery colours.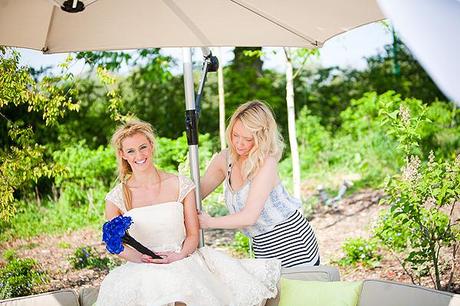 Eve works on getting the details just right for each shot – here Stacey is in the garden of Styal Lodge. An amazing day for a colourful, summery bridal shoot!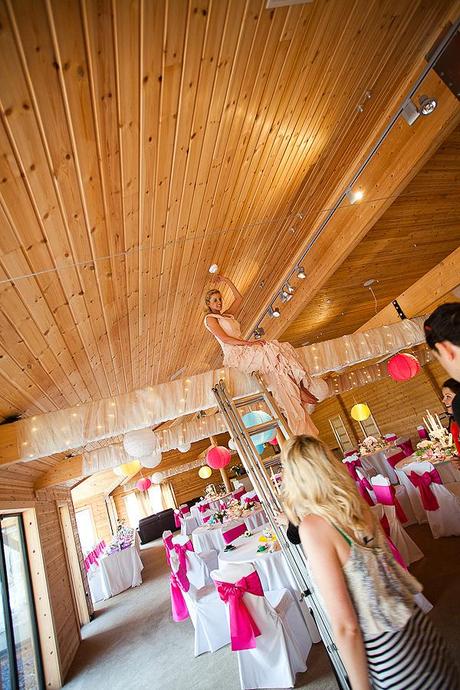 How Stacey got up there! My favourite photo – The Flying Bride! It takes a special imagination to prepare a shot like this one, and I love the final result (click back to the earlier post if you didn't see it).
A nice opportunity for a closer look at Styal Lodge while we're up there: the spotlights in the roof can be pointed at individual tables – so your centrepieces will shine under their own little lights. And the venue itself, being new and designed for the wedding market, is a blank canvas: perfect for brides and grooms to decorate with a bright and funky theme like this one (or in pure white, or neutrals… you can do whatever you like to make Styal Lodge your very own).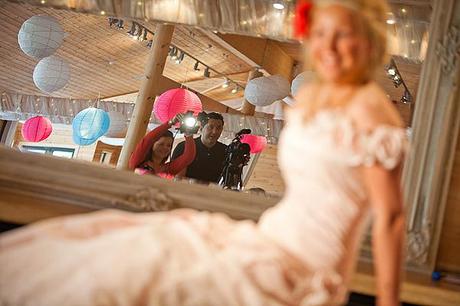 Emma Draper and Tom Harrington from Silk Wedding Videos in the background. Look out for the video of this shoot, which is bound to be pretty awesome!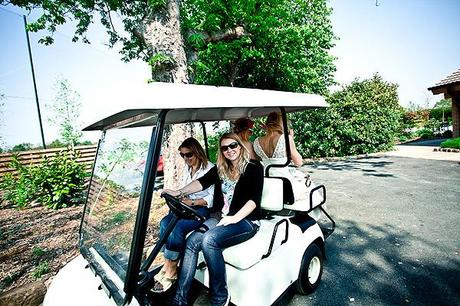 Styal Lodge wedding venue is very conveniently located for this particular mode of transport… Georgina drives and her mum Sarah navigates as the group make their way to the famous platform for fabulous photos by the water.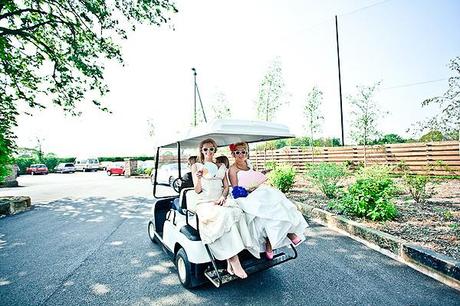 Models Stacey and Poppy enjoy the ride, while photographer Jonny Draper runs along behind the golf buggy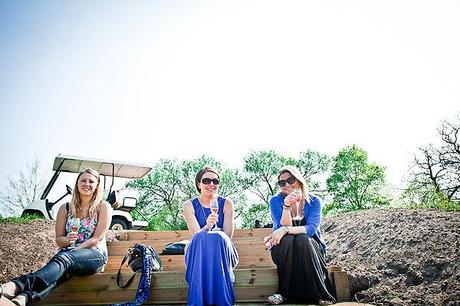 Georgina Higham, manager of Styal Lodge, Nikki Graeme from The White Closet bridal boutique and Charlotte Balbier relaxing by the pool (all looking very glamorous!)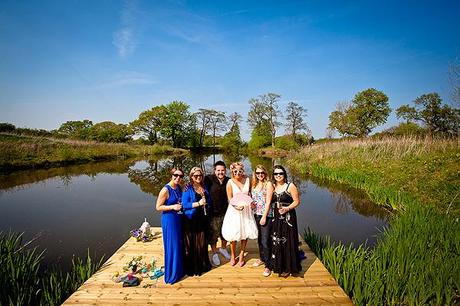 And the creative minds behind The Future of Vintage, left to right:
Nikki Graeme, The White Closet
Charlotte Balbier, brilliant bridal designer!
Jonny Draper, wedding photographer extraordinaire
Poppy Higham, model and…
her sister Georgina Higham from Styal Lodge
Emma Draper, make up artist
Who'd like to see some more of the gorgeous pics from wedding photographer Jonny Draper? Yes, me too! Here we go then…
Photography credits: Jonny Draper www.jonnydraper.co.uk