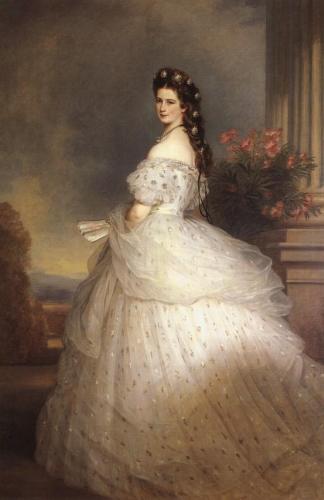 The Empress Elisabeth of Austria, Winterhalter, 1865. Photo: Hofburg Palace, Vienna.
Like a lot of people, I have a sneaking fascination with the Empress Elisabeth 'Sissi' of Austria, although I don't really know all that much about her if I'm honest. However, who HASN'T gazed in rapturous AWE at the famous Winterhalter portrait of her with dazzling diamond stars in her hair or gazed into those huge dark sad eyes and wondered what her story was?
Beautiful, melancholy, intellectual, unconventional and intensely vain (she was very protective of her image and resorted to various bizarre behaviours as well as a probable eating disorder in order to control the effects of the inevitable march of time on her appearance), Elisabeth was an extremely complicated person and definitely one that rewards a bit more research. It's too easy to look at those glorious Winterhalter portraits with their huge frothy crinolines and those cascades of hair and think that she was nothing more than a pretty fashion plate of a woman, but there were very deep currents going on beneath that regal smile.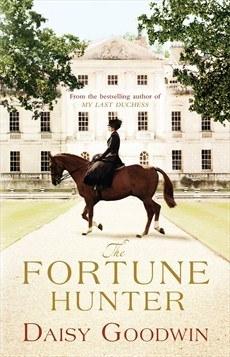 Daisy Goodwin's new novel The Fortune Hunter about the doomed romance of Elisabeth and her English hunting 'pilot' Captain Bay Middleton (a distant relative of the Duchess of Cambridge and the alleged secret father of Winston Churchill's wife Clementine Hozier) was therefore an insta-preorder for me as I will basically lap up anything that involves Sissi and I have to say that I wasn't disappointed with this book at all and found it just the sort of clever, luscious, bittersweet historical romp that I was pining for at that particular time.
The title refers not just to Captain Bay Middleton and his famed prowess on the hunting table as one of the finest horsemen in the country but also his rather diminished fiscal prospects – in short, Captain Middleton may be dashing, handsome, a superb rider and beautifully turned out but he's rather short of the sort of cash that will give him a proper standing in society. Enter Charlotte Baird, an attractive young heiress who is, in her own way with her forthright conversation, passion for photography and independent nature, just as unconventional as the Empress who is about to become her rival in a rather complicated love triangle.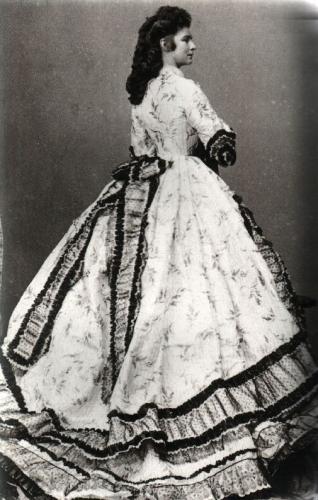 Empress Elisabeth of Austria, Angerer, c1863.
Both women, of course, fall in love with the dashing Captain Middleton and although he promises to marry Charlotte, it is his infatuation with the glamorous, enigmatic Empress (and who could resist such a woman?) that threatens to ruin everything for them both.
I was captivated by this book, which read to me like an updated Georgette Heyer with lots of fabulous frocks, social awkwardness, snappy dialog and all manner of woe and drama littering the path to inevitable true love. Okay, the ending was perhaps a tad on the schmaltzy side for my own tastes but I was left feeling replete with satisfaction as everything fell into place and all became well in the world once again.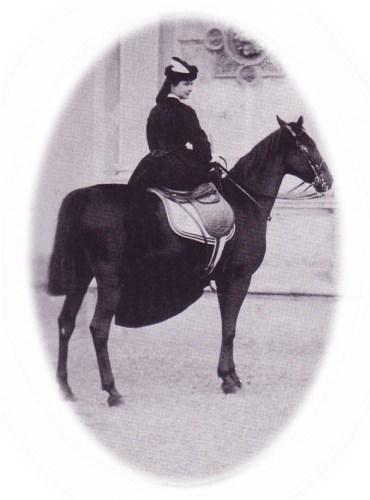 Empress Elisabeth on a horse, 1863.
I couldn't help thinking though that this would have been a very different sort of book if, instead of compressing all the action into less than a year, it had followed the facts and had Bay's engagement with Charlotte dragging on for seven long and doubtless dispiriting years while he pandered to the whims of his Empress. I can't even imagine what that must have been like for the real Charlotte – with everyone presumably knowing that she was engaged to a man who was clearly running about after another woman. I only hope that he made it up to her once they were finally married.
In fact, although the Empress was intentionally enigmatic, we don't actually know all that much about the true characters of Bay and Charlotte – although I think we can take a guess at the sort of man that the former must have been based on reports of his affairs. I'm imagining him as a sort of Rupert Campbell-Black sort of character only with lovely Victorian facial hair. It is entirely understandable that women fall for him in their droves but at the same time I was completely convinced by the clear conflict he felt about the two women in his life – the glamorous beautiful Empress and the more retiring but very definitely just as intriguing Charlotte. I think he definitely made the right choice in the end.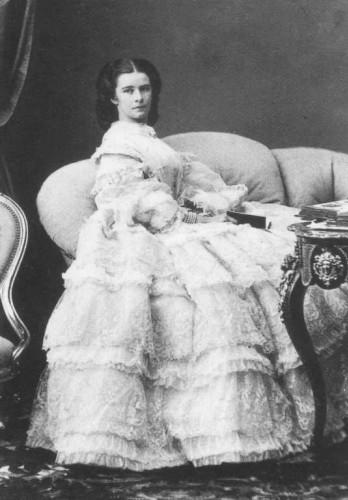 Empress Elisabeth of Austria, Angerer, 1860.
I'd recommend this book to anyone who likes a really good, meaty historical romance with some interesting characters, snaptastic dialog and some brilliantly dramatic set pieces. If you're a bit of a Heyer fan then I'd say that this is right up your street. As an aside, there's a couple of brilliantly awkward scenes involving Queen Victoria which I very much enjoyed – it's worth reading just for those.
******
Set against the infamous Jack the Ripper murders of autumn 1888 and based on the author's own family history, From Whitechapel is a dark and sumptuous tale of bittersweet love, friendship, loss and redemption and is available NOW from Amazon UK and Amazon US.
'Frothy, light hearted, gorgeous. The perfect summer read.' Minette, my young adult novel of 17th century posh doom and intrigue is now 99p from Amazon UK and 99c from Amazon US. CHEAP AS CHIPS as we like to say in dear old Blighty.
Blood Sisters, my novel of posh doom and iniquity during the French Revolution is just a fiver (offer is UK only sorry!) right now! Just use the clicky box on my blog sidebar to order your copy!
Follow me on Instagram.