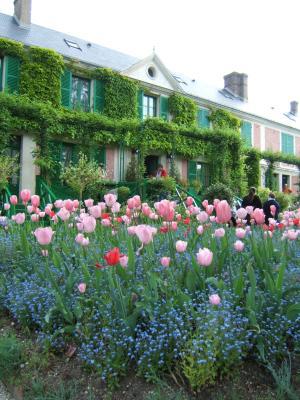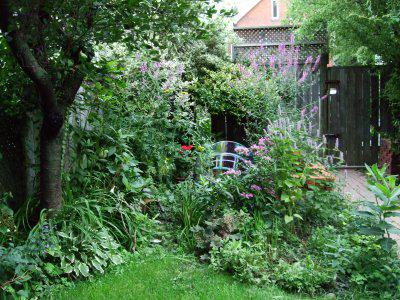 I recently fulfilled my dream of visiting  Monet's pink house his fabulous gardens at Giverny. I left my guys in Toronto while I visited the village of Giverny and Claude Monet's home. Even mid-October the garden was a riot of colour. The planning to keep the garden in blooming colour at all times must be quite precise.
Back in Toronto, I started following Monet's "flowering calendar"; a list of what blooms when, with hopes of replicating my own private Giverny in my sliver of a Toronto garden. No such luck. But it's a start.
If you're interested, here's a list of the plants and flowers that the
green thumbs
at Giverny grow during the seasons. More information can be found at
www.giverny.org
. The top picture is courtesy of their website. Second picture is my little garden.
Flowering calendar in Claude Monet's garden
April
Tulips
, pansies, forget-me-nots, narcissi, aubrietas, cherry and crab-apple blossom, fritillaries, daffodils, etc
May
Irises, peonies, rhododendrons, geraniums, wisterias, azaleas, wallflowers, daisies, delphiniums
June
Roses, poppies, clematis, Tamaris
July
Roses, nasturtiums, ageratums, zinnias, nicotianas, busy lizzies, verbenas, dahlias, rudbeckias, salvias, primulinus gladiolus, cleomes, cosmos, sunflowers, helianthus, hollyhocks... Beginning of water lilies
August
Dahlias, cosmos, hibiscus, etc (see July) End of water lilies
September
Nasturtiums carpet the Grande Allée, Asters, dahlias, cosmos, rudbeckias
October
Dahlias All the annual flowers untill frost.