"Welcome to Earth-2" is not the type of episode you critically review. Instead, it is the type of episode you purely admire, sit back and gladly declare, "That was a lot of fun." It lends itself to that type of reaction because it is such a thoroughly geek-out of an episode, overflowing with DC comics easter eggs, great Cisco one-liners and general comic book/sci-fi alternate universe intrigue, like the Fringe alt-universe seasons but on crack.
The plot was relatively simple: Barry, Cisco and Harry travel to Earth-2 to locate Zoom and rescue Harry's daughter. Their plan immediately derails forcing them to Back to the Future 2 things and have Barry assume his Earth-2 counterpart's identity. Along the way, we simply bask in all the weirdness and mirror glass elements of Earth-2: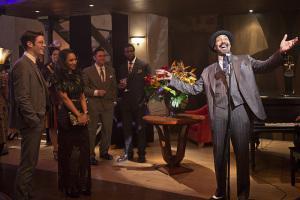 Their technology is more advanced than our's, yet their cars and clothes haven't progressed since the 1940s.
Iris is the cop, and Joe (who prefers "Joseph") is the one working at Jitters, as their resident nightclub singer.
Floyd "Deadshot" Lawton is Iris' partner, but his "Deadshot" nickname on this Earth is ironic because he's actually a horrible shot.
Barry's police chief boss on Earth-1 is a villain with rather adventurous facial hair on Earth-2.
Henry Hewitt, the evil meta dubbed Tokamak on Earth-1, is Harry's remarkably friendly lab assistant on Earth-2.
Leonard Snart is the Central City Mayor.
Earth-2's Caitlin, Ronnie and Cisco are all evil metahumans (Killer Frost, Deathstorm, Reverb, respectively) working for Zoom.
Earth-2's bow tie-wearing Barry is married to Iris, has a contentious relationship with Joe and bought tickets for his mom and and dad to visit Atlantis (presumably ruled over by Aquaman).
Earth-2's Barry also has the names Bruce, Diana and Hal on his speed dial.
Even before Earth-2, the episode was already tossing out one easter egg after another as images of Supergirl, the John Wesley Shipp Flash, an older Green Arrow, Jonah Hex and the Legion of Superheroes power ring flew by (in Supergirl's case, quite literally) as Barry and pals crossed the breach between universes. This is identical to the trick they used in last year's season finale when we saw an early glimpse of Caitlin as Killer Frost. This time, they used the trick to set up things that will happen on Legends of Tomorrow (Jonah Hex, the older Green Arrow) as well as set up the forthcoming Supergirl crossover (I was right – Supergirl is meant to be happening on a different Earth than Arrow/Flash). The John Wesley Shipp Flash was likely meant to be a canonical acknowledgement of the old Flash TV show as occurring in an alternate universe, but you never know for sure with these producers.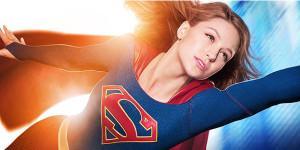 Seeing Melissa Benoist's Supergirl surprisingly show up for a moment on The Flash was exciting, and I say that as someone who doesn't particularly care for Supergirl. They are giving us something we recognize (e.g., "Hey, it's Supergirl") but with a new twist (e.g., "And she's officially from a different Earth!"), which very easily induces an automatically gleeful response.
That characterizes much of the enjoyment to be had in alternate universe episodes of sci-fi television, and "Welcome to Earth-2" is certainly no different in that regard. It could ultimately be a terrible or scattershot episode and get away with it because simply glimpsing the "What if?" possibilities of all the doppelgangers in an alternate universe is going to be inherently fun. Heck, it's supposed to be fun. "Welcome to Earth-2" lets us know that with all of the slack-jawed, bewildered reactions Grant Gustin and Carlos Valdes delivered in response to each subsequent Earth-2 surprise (their collective reaction to Tokamak was priceless). You don't let actors go that big unless you're really playing this for maximum enjoyment.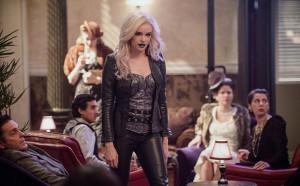 Easily the most interesting thing Danielle Panabaker has been given to do all season
If that's all that "Welcome to Earth-2" had to offer that would make it a welcome change of pace for a season which had become a little stuck, but that's all it would be. However, Katherine Walczak's script and Millicent Shelton's direction elevated this episode above the norm by wisely emphasizing that Earth-2 is Barry's dream world. His mother is still alive, and he's married to Iris, whose love for him still burns hot enough to warrant an attempt at a hallway make-out session at work. So, Barry breaks our hearts (again) as he barely makes it through a phone conversation with his mother, and he gets so caught up that he ultimately ignores Harry's far more logical commands to stick to their plan and remember that this is not his life, not his Iris, not his mother. Because he, contrary to Jay's warnings at the beginning of the episode, got lost in everything he ended up being captured by Zoom, imprisoned next to Harry's daughter and across from a mystery man in a metal mask.
You know that Barry will escape from Zoom, but you also suspect that this encounter will have a significant impact on his life, possibly kick-starting a second attempt at a romance with his Iris on Earth-1. Similarly, you know that Cisco will walk away from meeting Reverb realizing that he can do so much more with his powers. These Earth-2 episodes will inevitably have a huge impact on what happens in the back half of season 2. If this first episode is any indication, though, these Earth-2 episodes will also be insanely fun to watch.
My Favorite Moment
When Deadshot improbably fired off a round of point-blank shots on Reverb and somehow missed every time
My Least Favorite Moment(s)
When Joe, Ronnie and Reverb all died. It felt like a waste to kill off alt-universe characters that quickly.
Here's how Twitter weighed in on all of this:
Earth-2's Weird Yellow Tint

"Welcome to Earth 2. As you can see, we have cornered the market on sepia tones." #TheFlash #DatFlash

— FN-2187 (@Brah_Of_Steel) February 10, 2016
Welcome to Earth-Yellow Camera Filter. It looks like this Earth was shot by Guillermo Del Toro. :P #DatFlash #TheFlash

— D[TV]Halliday (@DTVHalliday) February 10, 2016
Why does Earth 2 look like it's under an instagram filter. #TheFlash #DatFlash

— Rashaun Fraser (@Speede_e) February 10, 2016
Up is down. Left is right. Everything is tinted slightly yellow. Welcome to #Earth2!! #TheFlash #DatFlash pic.twitter.com/GXqEAHwNn8

— Chris Robinson (@ChrisRobinsonNJ) February 10, 2016
Earth-2 In General
You can tell Earth 2 is fancy because it has MONORAILS #TheFlash

— MB (@Booshette) February 10, 2016
#TheFlash @FLASHtvwriters welcome to Tomorrowland aka earth 3

— kelligirlruns (@Kelligirlruns) February 10, 2016
I like how the characters from Earth 2 are happy to call it Earth 2 on #TheFlash

— Scott Skocy (@rascallybadger) February 10, 2016
Again, I LOVE that Earth 2 is retro-futuristic since the original Earth Two in the comics is where all the WW2 heroes were #TheFlash

— Matthew Smith (@kyleo71) February 10, 2016
Why didn't Jay go? He knows he way around, it's his home! #TheFlash #FanVFan

— Andrew Ivimey (@Ivimey) February 10, 2016
Sure Killer Frost was cool (mind the pun) but is anyone gonna talk about Cisco and Barry's seflie game? #TheFlash pic.twitter.com/SBbGbFNRLx

— friedchickenloverrr (@luvfriedchicken) February 10, 2016
It would be hilarious if Evil Vibe gave everyone corny names. SnowCone and The Hot Tamale and FastyFast #TheFlash

— JaeDreamer (@DreamJae) February 10, 2016
Iris is giving Amelia Earhart from Night at the Museum her toughness and lingo. #TheFlash

— AicylA (@MissIVY_League) February 10, 2016
Joe Cool
I wonder if on Earth-1, Joe secretly goes to clubs and bars to sing, a la Giles on Buffy #TheFlash

— Jorell Rivera (@JorellRivera) February 10, 2016
Earth 2 Joe is gonna Barry White us throughout this episode. Cool#TheFlash

— Jason Todd (@Speakz_Volumez) February 10, 2016
"They're my family!" …no, they're A Barry's family…THE GUY YOU KO'D! I'd think he'd wanna know! #TheFlash

— DigiRanma (@DigiRanma) February 10, 2016
Supergirl

@CW_TheFlash #TheFlash #SuperGirl @supergirlcbs I GOT NO SPIT! Did you guys see SuperGirl?!! pic.twitter.com/4W2gm2a7Vb

— Adwin Caban (@AdwinCaban) February 10, 2016
OMG everything is confirmed #TheFlash #datflash #Supergirl pic.twitter.com/gYPeiPNc2u

— Vern (@vernsviews) February 10, 2016
Killer Frost
Welcome Killer Frost and Deathstorm! #TheFlash pic.twitter.com/ek8dydt43W

— TheAlternativeSource (@TheAltSource) February 10, 2016
Cisco Love

My favorite part of Cisco's outfit is the Twizzlers!!! Lol #TheFlash @Tha_Los

— Ana Belén (@sxrocknroll) February 10, 2016
"Look I've seen Fire and I've seen Rain, I can handle myself." Cisco quoting James Taylor! 😂👏🏼👏🏼 #TheFlash #WelcomeToEarth2 @Tha_Los

— Renee ✨ (@Rae_of_light09) February 10, 2016
"Are you cloud city Vadering me?" Baahahahahahahahahaaa #Cisco #TheFlash

— Mary Kirk (@GeekKirk) February 10, 2016
The Women Behind the Scenes

Not embarrassed to admit that I nerded out that two women created Earth 2 on #TheFlash. @FatsWalczak wrote it and @1wildchld directed.

— Heather (@approximofnice) February 10, 2016
Hey now! Tonight's ep of #TheFlash is directed by Millicent Shelton – @1wildchld #BlackWomenDirect pic.twitter.com/mnnODNt3UU

— Film Fatale NYC (@FilmFatale_NYC) February 10, 2016
The Feels
oh god
his mom called
hIS MOM CALLED
GOODBYE#TheFlash

— Kelsey Murtiff (@Chelly_Klam) February 10, 2016
Awe, Barry's mom is alive on Earth2. Damn it, I didn't want to cry. #TheFlash pic.twitter.com/N5u12bMQkZ

— Darla B (@OriginalDBubble) February 10, 2016
"Poor other Barry. Our Barry is totally making on his wife."

– my kid

😂😂😂😂😂😂😂#TheFlash #DatFlash

— twila dang (@twiladang) February 10, 2016
Tweet of the Night
At this point I'm half expecting to see Ben Affleck invite us to fly Turkish Airlines to Central City #TheFlash

— Andre Ferguson (@ShinobiAFC) February 10, 2016