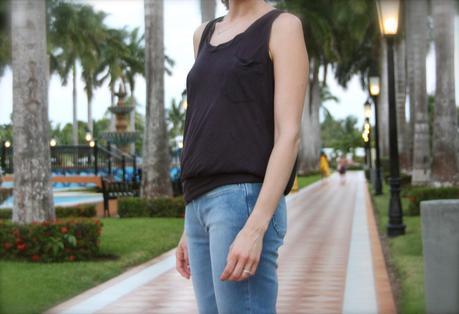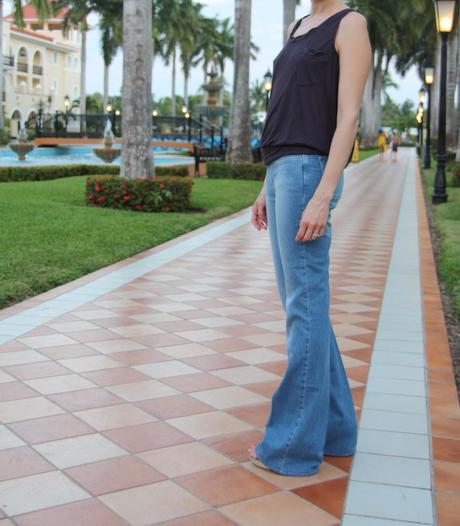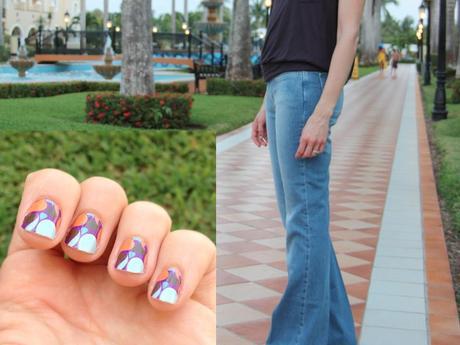 Marrakesh flare jeans - Mih
Top (2011) - Comptoir des Cotoniers
Wedges (old) - Zara
Psychedelic Vinyl nail wraps - NCLA
One of the few jeans I packed for the holidays were my new MiH flares and I'm so happy that I did. I'm more and more convinced that a pair of flare jeans go with everything, you just need to find the right pair of shoes to wear them with (I hemmed mine to go with a pair of Zara wedges) and you can wear anything on top. I'm still trying to find a top in my wardrobe which will not suit these jeans... Here I wear them with a Comptoir des Cottonniers top which I got for my birthday last year but haven't had to chance to wear until now (it was a gift from my friend C, thanks babe !). A few weeks ago I wore them with a pink neon sweater but they were too long back then. In the meantime I found a taylor who hemmed them to perfection, if you live in Brussels and need a reference ask me.
I'm also wearing my latest nail obsession, "psychadelic vinyl " nail wraps from NCLA. I love NCLA nail wraps but I don't wear them a lot back home as sporting original nail art is not on my office's dress code. This design is my current favorite and I love how the 70s vibe suits my flare jeans. And if you look how popular these were when I posted a picture on Instagram you see that I'm not the only one loving them.
How about you, do you have a pair of jeans which go with everything ? And what do you think about these nail wraps, would you fall for them ?
xx Marta (still in Mexico)