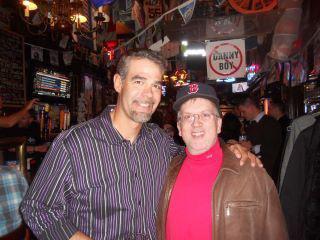 On Monday night, I went to Foley's Bar and Restaurant in midtown Manhattan, on the 8th anniversary of that fine establishment's 8th anniversary. I am friendly with John Mooney, one of the bar's big wheels.
Sean Casey came in as guest bartender, along with former pitcher Jeff Nelson. The party also was a benefit for Sean's foundation, Casey's Clubhouse.
Sean walked in at 7:30 after his gig that night on the MLB Network, and he brought along 2007 World Series MVP Mike Lowell along with him, as he is also doing a part-time gig there as well.
I had the great pleasure of meeting both former players. Sean really is the nicest guy ever to play Major League Baseball! And I spent about ten minutes chatting with Mike and John (he introduced me to Mike as "The Lt. Governor of Red Sox Nation here in New York"). Really nice man Mr. Lowell is. We talked about his playing in Boston (he loved it) and playing in Miami (he talked about how the crowds were mostly bigger on the road than at home).
And all I could think of while talking to Mike was my friend Dorothy, one of Professor Thom's waitresses, who is probably his biggest fan. (I didn't have her phone number, otherwise I would have called her and invited her down.)
As we were wrapping up our conversation, some wiseass Yankee fan walking past me, looked at my Red Sox hat and said "high school team" (whatever that means). And I shot back with "How dare you say that in front of 2007 World Series MVP Mike Lowell!" He looked at Mike with a bit of a surprised look and Mike laughed.
It was a memorable night on Monday, and I want to thank John and all the good folks at Foley's, especially for the picture of me and Mike.