Those who know his approach to ensure that the pastry is a good indication of the personality of Marissa Mayer, who was the first female engineer at Google and take the direction of Yahoo! Tuesday.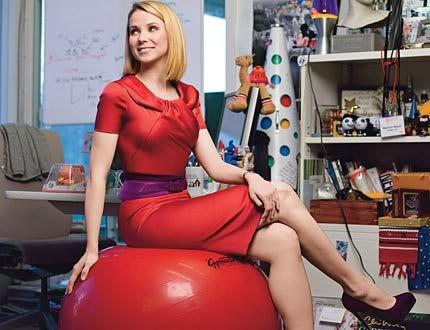 "When she wanted to make the perfect cupcake (cupcake contained in a cartridge paper), it has an array of ingredients to determine the perfect recipe," says the high-tech expert Danny Sullivan, who ensures that the temperature of oven and cooking time were also determined methodically.
"She took the same approach to launching products at Google," he said: "She said they were doing all the tests imaginable to achieve this success whatsoever."
To Mr. Sullivan, Ms. Mayer, 37, should keep his proven method to recover the fallen of the Internet pioneer Yahoo!, which has failed to reinvent itself after losing the final battle against Google in the field of engines Research.
This passion for fashion with blond hair showed his talents as an engineer at his high school years, when Governor of Wisconsin (northeast U.S.) was chosen to represent the State in a National Convention of Young Scientists .
She then specialized in work on artificial intelligence at Stanford University, the same one where Larry Page and Sergey Brin were preparing a doctorate before he founded Google in 1998.
A year later, she became the 20th employee of the sapling, and its first female engineer.
"Since joining Google thirteen years ago (…), Marissa has been tirelessly counsel of our users," said Google boss Larry Page said in a statement. "His talents will be missed at Google," he said, recalling his work on the search engine and geolocation products.
In an interview with New York Times, she assured that this was "a pretty easy decision" to spend at Yahoo!, which remains in her "one of the best brands of the Internet".
"Woman of the Year"
Recently, she was responsible for geolocation at Google, including mapping with Street View and restaurant reviews with service Zagat, she would have driven the takeover last year.
She is credited with having launched more than a hundred products and features including the news service Google News and Gmail. He pays great influence in the design stripped of the home page of Google search engine, and what constitutes the identity of the group's most visible to users.
Group of Mountain View, Ms. Mayer had also founded a program of "associate product manager" to hire hundreds of promising young graduates in computer science, the idea of training them for management positions.
She also taught computer programming at Stanford, which won him awards.
Last year, Ms. Mayer was honored by Fortune magazine among the "40 under 40″ to watch in the business world, alongside Mark Zuckerberg, Facebook founder and Larry Page. For four years, the Fortune also ranks among the 50 most powerful women in business.
Ms. Mayer, who organized her home in Palo Alto a fundraising dinner with President Barack Obama in October 2010, was appointed in April to the board of retailing giant Wal-Mart.
Accustomed pages of women's magazines and married since December 2009 to financial Zachary Bogue, she was the "Woman of the Year" from Glamour magazine in 2009.