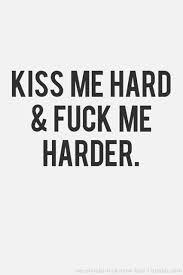 Well damn… last night was ummm something else to say the least. I decided I needed to get out of a funk so I was just going to start very casually dating. I mean super casual as in lets go grab dinner maybe a drink  and talk, no kissing no hooking up just hanging out. That was working out pretty well for me until last night. I have texting this guy for about two weeks but because of our schedules we had yet to met up. I met him on Tinder, go ahead and judge me for that. He got me to swipe right because of his pictures but I was more attracted to him because of what he said to me on tinder. I mean right off the bat he laid it out there that he didn't really care what i did for a living or where i was from and that he had no intention of having that same boring cliche conversation. He asked me what my biggest fears are, what my passions are, what relationship screwed me up the most and other things along those lines. At first I was like whoa time out thats way to much. but he made a good point if you can't tell a complete stranger something who can you tell. Next thing I know I am telling him things I don't tell my friends. It was weird but very refreshing I was so open and honest about what I was saying and oddly relaxed about it. Fast forward about two weeks through on and off conversations and snap chats and we get to last night.
He asked me to go to dinner earlier in the day and I agreed. As it got closer and closer to me having to leave I was debating on bailing. I didn't I showed up about 15 mins late but hey I went. Now keep in mind this guys knows a lot of personal stuff about me and my sex life. In my defense I never actually thought I would met him. You would think the conversation would be kinda awkward considering everything we had talked about before meeting but it wasn't at all. We had a great conversation, you never would have guessed it was the first time we had hung out. He kept me laughing and smiling all night long and not the fake laugh and smile but I was actually having a really good time. We went out for drinks after dinner and we continued our great conversation just talking about anything and everything.
One thing we talked about a lot through text and last night was sex. I had already told him I had never had a one night stand and that it wasn't my thing, hell I told him before we even met for dinner I wasn't going to sleep with him last night. And he has this I don't know what you would call it a rule I guess about if he sleeps with a girl on the first night he won't see her again. Well we get back to my place and I'm sitting in my big over stuffed chair and he is on the couch. At some point he gets up and comes and sits on the chair with me. Did I mention he wasn't wearing a shirt…OMGGGG he is a fighter/boxer so his body is amazing. I'm talking perfectly cut not to much but definitely cut to perfection. So anyway he is sitting on the chair with me and he was ridding my legs and I was across his back and through his hair while we talked. He leans over and starts making out with me. I was fucking done ha he was such a good kisser. This goes on for I don't 20ish mins before he moves me to the couch and climbs on top of me. At this point I am fighting the urge to rip his shorts off. I keep telling myself  "don't be that girl, don't be that girl"… well you can probably guess what happens…
We end up in my guest bedroom both of trying really hard not to give in… We gave in and we gave in in spectacular fashion. The sex was seriously some of the best sex I have had in a long time. It was beyond clear that there was a connection there but in the back of my head when we were done I was think fuck did we just screw this up. Mind you at this point its 430 in the morning. I wake up this morning wondering if I would see or hear from him again, by 10am my question was answered… he didn't ask he told me he was staying with me tonight and that he would see me after work. Now I get to send the rest of the day thinking about round 2 with The Fighter tonight. I don't know if I want this to get serious for a couple reasons but for now I settle for someone chill to hang out with and the amazing sex.
Side note: he is the first person in 6 months to completely make me forget about Mr. Whitewater for a night, I'm taking that as a good sign.