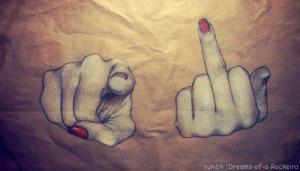 God it is almost comical how fast things change. Two months ago I'm a hot mess over a guy (Mr. Whitewater) who I thought was amazingly perfect for me only to find out he was a jackass who didn't care how bad he hurt me. Now I'm over it for the most part, don't get me wrong from time to time I still think about him and want to talk to him but I now see his true colors and I understand that he isn't the guy I thought he was. And now we arrive at my newest boy problem…
When Mr. Whitewater and I broke up he said stay away from my friends. I did but its not my fault that we see them out and they invite us to do things and they come to the things we invite them too. No one is forcing his friends to hang out with me and my friends. Actually they have told me more then once they like hanging out with me more now that I'm not with him. One night a couple weeks ago we are at a house party with some of his friends from work and I'm sitting there talking to one of the guy, no big deal. Nothing happens I pass out a couple hours later. Every day since then I have talked to him. And not only talked to him but we have hung out and hooked up. At first I thought it was just a casual thing but I'm starting to think its more than that now.
Now we arrive at problem number two… I am currently let one of Mr. Whitewaters friends/co workers crash in my second bedroom. He told me he was staying in his car I couldn't not offer him my spare room isn't not like I use it. The guy is a great room mate seriously he is so much fun to have around and chill. We flirt and goof around but nothing has happened. I can tell he wants it to though. I'm going to have to have that talk with him about us just being room mates which is going to suck because I don't want to hurt his feelings.
So incase you are completely lost two guys that work with and are kind of friends with my ex are trying to get at me and I don't know what to do!? One of them I'm kinda in to and one of them I just want as a really sweet room mate but both of them know my ex. And on top of all of that my ex is going around work and telling people things about me like that I'm hooking up with random ass people and shit. Why would Mr. White water even care what I am doing? he broke up with me, he told me I wasn't worth it so why does he feel the need to go around running his mouth about me?
UGHHH I really don't know how I managed to get myself into this situation and I feel like a horrible person for it :(