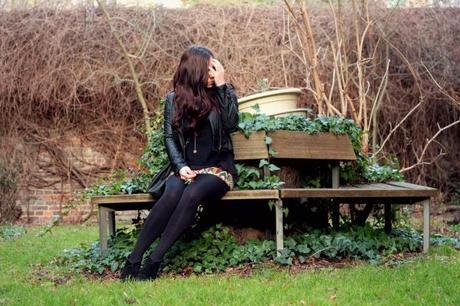 Amazingly spring is here so I thought it would be a good idea to ditch the warm coats for
this
cool faux leather jacket for this past weekend! I mean 12 degrees at the beginning of February is pretty amazing. I'm still on the hunt for that perfect leather jacket, but in the meanwhile this baby here does the job quite well: it just goes with everything I have be it jeans, skirts, dresses. The fact that is rather cropped helps a lot too so you'll definitely see me wearing it quite often in the future.
On another note, hope you're all set for the upcoming Valentine's Day but if you're not
here
are 3 cute DIY presents for your other half and
here
some little something for yourself. 
Hope you're all having a great Monday! I've been more active on Instagram lately so don't forget to connect with me
there
Jacket:

HERE (& ON SALE)

/ Sweater&Boots: New Yorker/ Skirt&Bag: Primark/ Necklace: Bvlgari