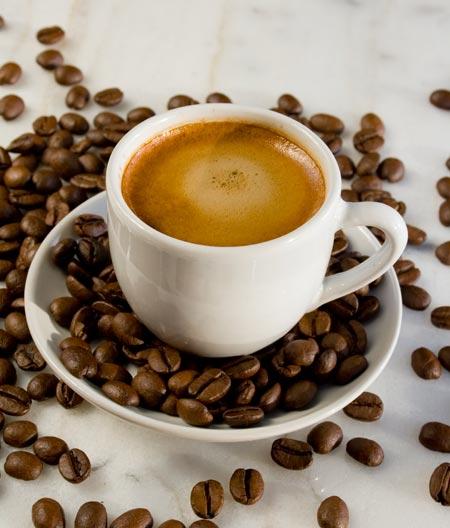 Coffee is for Italians a cult and a ritual gesture that can be repeated several times a day.
Sit at a table in a bar, relax and ask for  a  coffee. The most famous Italian coffee? The espresso of course.  Its name turns all around the world. Its greater characteristics? The intensity in the aroma -  it should be  strong and dense. The cream on the surface is essential. It absolutely be  served in a small cup. The perfect espresso should be done with freshly ground coffee (probably you can find it in a torrefazione, a place where the coffee is the excellence. Here the product is also  purchased in grain without grinding). The coffee experts know that the quality of the product is not enough.  Indeed it is also important - to make  a good espresso- to check the water pressure and the water should be filtered. It is also important is the technique of grinding. A cup of espresso contains about 80 milligrams of caffeine. The first Italian coffee was the Caffè Florian in Venice that hosted some great personalities.
http://www.learnitalianow.net/2011/11/what-to-visit-san-marco-square-venice.html
Now go to the bar for a coffee is a real tradition. You may decide to go for a coffee to enjoy the drink. You can organize to go with someone at your first date to drink a coffee, it is not so damaging. It can also be a way to spend an hour at the bar with some friends and to have a nice chat. Drinking the coffee alone is a habit of many Italian before going  to work or in the mid-morning break. They come in their usual bars and have a coffee at the counter. Usually the barman - after sometimes you go in the same bar- know exactly what you want. He will ask you, "John the usual?" you will nod to him and you will have your espresso hot and steaming, perhaps accompanied by a tasty brioche  Coffee is essential in the Italian life. At the end of the lunch in a restaurant or pizzeria the waiter will ask: "how many coffees?"
Sure because many Italians cannot end their meal without a great espresso!