The first thing I noticed about The Epicurean Whisky is that Douglas Lang stole my look for this whisky. Those jerks (kidding, they're not jerks). What's in the bottle though is more interesting than what's on the bottle. I find that an interesting thing to say coming from me because historically I'm not a fan of the Lowland distilleries.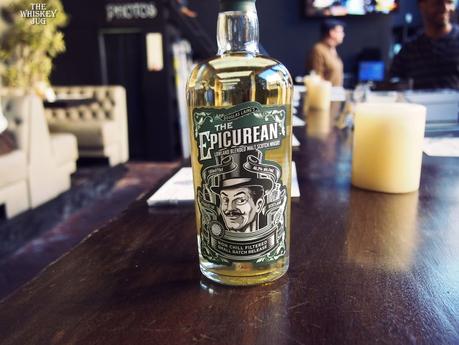 Bladnoch is… ok, Auchentoshan can put out some good stuff, but it's mostly via single barrels, Glenkinchie is rather boring on the whole and then you have Aisla Bay which I've never had so I can't say boo about it. The stage is set, now on to the review.
The Epicurean Whisky Review: Details and Tasting Notes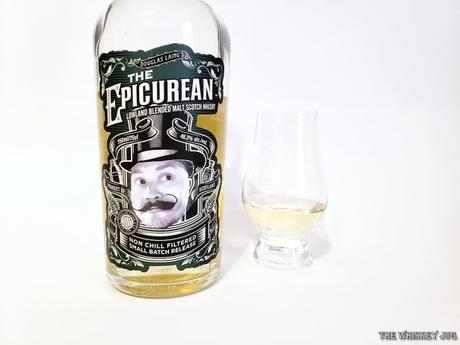 In Douglas Lang's Words: The Epicurean Whisky
Douglas Laing's The Epicurean Lowland Malt Scotch Whisky tells the story of a 1930s Glasgow man, a real cheeky chappy who was ever the life and soul of the party, and a real connoisseur of fine food and drink. A dram we describe as "city born and bred", The Epicurean is a blend of some of the finest Lowland Malts; a marriage of the best that the East and the West of Scotland have to offer.

The Lowland region, encompassing the great cities of Edinburgh, Glasgow and the historic Kingdom of Fife, boasts a mild climate of miles of rolling flat farmland and neat woodlands, making The Lowlands an ideal region for growing barley, and, consequently, for producing Whisky.
The Epicurean Whisky price, ABV, age and other details
Region: Lowlands, Scotland
Distiller: Various (possibly Glenkinche, Auchentoshan, Bladnoch and Aisla Bay)
Blender: Douglas Laing
Mash Bill: 100% Malted Barley
Cask: Various
Age: NAS
ABV: 46.2%
Non-Chill Filtered | Natural Color
Price: $47
The Epicurean Whisky Tasting Notes
EYE
Light gold
NOSE
Apricot, malt, cinnamon, earthy, vanilla and grass.
PALATE
Vanilla, malt, mineral water, cinnamon, earthy tones, vanilla and citrus.
FINISH
Short -> Banana, vanilla and malt.
BALANCE, BODY & FEEL
Ok balance, light body and a light feel.
The Epicurean Whisky Review: OVERALL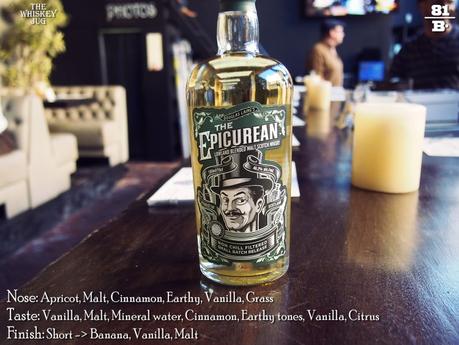 An interesting whisky created solely from lowlands, The Epicurean Whisky, is a subtle delivery of earthy malt paired with some light sweetness. It's not complex, it won't curl your mustache, but it will give you a nice sense of place for the whisky in the glass. With only 4 distilleries in the region this is a whisky that would be easy, and fun, to do a deconstruction with at some point… thoughts for the future.
SCORE: 81/100 (B-)
The Epicurean Whisky Review
Nose -

81

Palate -

81

Finish -

81

Balance, Body & Feel -

81
81
The Epicurean Whisky Review Summary
The Epicurean Whisky is a simple sip of alright.
Sending
User Review
0

(

0

votes)
Comments Rating
0

(

0

reviews)