Apologies for any confusion.  This article replaces a prior post which also discussed the producer's hints about storylines for the second half of season 2 of Arrow.
Last night, the mid-season finale ("Three Ghosts") for Arrow's second season aired.  True to form for a show which has a knack for doing their best to blow us away with their finales, a lot of stuff went down.
SPOILERS
We saw Shado die in the flashbacks, Slade Wilson now has superpowers (strength/healing) in the flashbacks and is the mastermind behind Brother Blood in the present, Roy also now has those same type of superpowers, Oliver talked to three hallucinatory ghosts capped off with a return cameo from Colin Donnell as Tommy, and Barry Allen got pretty much the classic Flash origin story (lightning + assorted chemicals = zoom, zoom, zoom).
I personally loved just about every minute of it, quieting down my more critical side and just escaping into the fun of it all.  Others have indicated my review (which you can read here) pretty much summed up their feelings on the episode while I've already had someone respond to explain how much they hated the episode.  A quick glance at reviews published elsewhere indicate a remarkably positive reaction to "Three Ghosts":
AV Club:  "Indeed, that's part of why 'Three Ghosts' is such a fitting place to end the first half of Arrow's second season. Oliver understands who he is better than ever before, but he's on the brink of losing control of Starling City once more—and he doesn't even know the worst that lies ahead of him."
ScreenCrush: "If anything, 'Three Ghosts' offers almost too much to take in, excluding Moira or Malcolm Merlyn, Isabel Rochev, the League of Assassins and more, though we can hardly blame 'Arrow' for dividing its attention between all the shiny new toys, given that it so effectively strummed the emotional threads for a satisfying close to 2013. We'll deal with Slade's ultimate endgame, Roy's apparent empowerment, and whatever else 2014 brings in due time. For now, we're content to marvel over how deftly 'Three Ghosts' manages to accomplish its Dickensian feats of exploring past, present and future, without skimping on the shiny explosions. And hey, they even found something for Laurel to do!"
ComicBookMovie: "The last few minutes were an absolute blast, as Arrow set up the birth of a 'true' Solomon Grundy, Barry seemingly got his powers, and Arrow got his domino mask. The mask is a nice addition but it's still not difficult to tell that's Oliver underneath it. Maybe a fake beard will be next to complete his superhero costume?"
If you're still on board with Arrow, we have to wait until January 15th for the next new episode, "Blast Radius."  To hold us over, two of the show's Executive Producers, Greg Berlanti and Andrew Kreisberg, talked to TVLine.com about "Three Ghosts" and hinted at storylines for the second half of the season [potential spoilers await]:
THE EFFECT OF BARRY'S ARRIVAL/DEPARTURE ON FELICITY & OLIVER |"It's certainly something we pick up in Episode 10, because the fallout… carries over into the next episodes as far as the Oliver/Felicity relationship is concerned.  Barry has had a profound effect on them, and that will carry through.  Oliver isn't quite sure what he feels. He knows he feels something for her, but can't quite define it. He's surprised in this episode when Dig points out to him that what [he's] feeling right now might actually be termed jealousy."   As for Felicity's side of things, they say she "doesn't want to like Oliver, in a way, because she finds him unattainable. And in a way, he is unattainable, especially after… he said, 'It's probably better if I'm not with somebody I care about.'"
BROTHER BLOOD=MINI-BAD; SLADE WILSON=BIG BAD | Berlanti: "This year, we've got a two-pronged approach to the bad guy.  Also, because Oliver knows about the presence of one of the bad guys, it helps us change the rhythms of the back half of the year from what we may have done last year."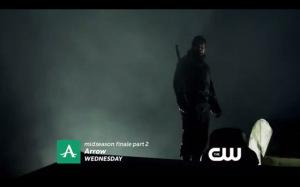 Will there be more to Slade's motivations than grief over Shado?  Perhaps not.  According to Kreisberg/Berlanti: "That really is his motivation. He blames Oliver for what happened"/"Things don't get better between them on the island."
WHERE ARE THEY TAKING ROY? | Kreisberg: "What's fun for us as writers is we see what Roy's potential is to go down that dark path, too.  It's a deep-seated anger inside of you that lets you survive the transformation. One of the fun things that will be happening in the back half of the year is [Roy's] relationship with the Arrow and how that changes and how the Arrow basically makes it his mission to not let Roy go down the Slade path. That takes some interesting twists and turns."
THE VIGILANTE UNMASKED | Kreisberg: "Over the course of the season, a couple more people will find out. For us, him keeping his secret identity is the least interesting part of the character. People knowing, and letting him talk to people and letting him share that experience, we find to be much more interesting."
WHY THEY DECIDED TO BRING BACK TOMMY | Kreisberg: The EP's "literally had the same idea at the same time. We both felt each other gasp. So much of this season is based around that character and his loss and what a hole he left in the show.  So it really fit with this season's arc of Oliver's journey, going from vigilante to hero… For Tommy to forgive him and tell him to get up and fight — just even talking about it, I get chills." Originally, though, it was going to be Oliver's dad and not Tommy.  Then they changed their minds.
They also assure us that Malcolm Merlyn will return meaning we have not seen the last of his baby daddy drama with Thea, for better or worse.
Here is the trailer for "Blast Radius," the next new episode of Arrow: