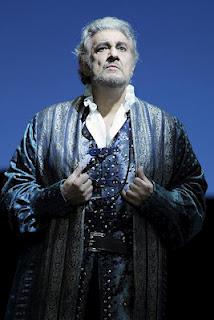 Plácido Domingo as  Simon Boccanegra.
Photo by Monika Rittershaus for the Berlin State Opera.
Financial Issues Poison OONY Boccanegra.
The Opera Orchestra of New York issued a statement today canceling a planned concert performance of Verdi's
Simon Boccanegra
, which would have starred Plácido Domingo in the title role. The performance was to be conducted by Alberto Veronesi.
The reason for the cancellation: a loss of anticipated funding. Tickets purchased can be donated to the company, used towards a future performance, or simply refunded.
"We regret having to cancel the upcoming presentation of
Simon Boccanegra,
" board chairman Norman Raben said in a press release. "As a board, we have a mandate to be fiscally responsible."
He added: "With the loss of funding for this production we had no choice but to cancel the concert. The Opera Orchestra of New York has a long legacy of presenting operas in concert on New York's greatest stages and our primary goal is to maintain the company's vision and ensure the longevity of the institution."
OONY was founded in 1971 by conductor Eve Queler, with a mission to present concert performances of operas without the traditional accoutrements of costumes and sets. In a long-running series of concerts at Carnegie Hall and Avery Fisher Hall, the ensemble has presented New Yorkers with rarities like Wagner's
Rienzi
, Meyerbeer's
L'Africaine
and Massenet's
La Navarraise.
Recent concerts included a revival of
Rienzi
and a fall performance of Cilea's
Adriana Lecouvrer
.
The press release also stated that the company will announce its 2012-2013 slate of operas in concert in coming weeks.