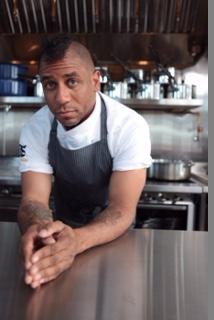 Chef Russell Jackson, the muse of this writing contest!
All four contestants are winners!!
In Chef Russell's own words:
"I'm very honored to be someone's muse and inspiration.. I know we all look for those passions. So I'm grateful and wish to thank each of the contestants for putting their work out there.. I hope that they all keep evolving and growing..  they're all lovely stories, each with their own twist and detail..
i can say the one that i would like to read more of would have to be Stephanie Parke's Noir.. Frankly other than bacon candy I'm not quite sure where i fit in. But i enjoyed the story.. 
But really all were great.
Cheryl's was super detailed and she clearly knows more about me than most..
Stephanie Greenhalgh story was fun and adventurous.. Kinda funny.. I like the hidden agent and karate chop.. very pink panther.
Jessica's was a slightly frightening internal dialog.. #Killthemallletgodsortthemouthard to choose a winner. They all did amazing.. I could never pick a winner out of them.. They all did great..
My thoughts..
Russell" *****************************************And thank YOU, Russell, for helping me to get my #FoodieLit movement off the ground. I hope to someday help to develop a new subgenre in writing be it fiction or non-fiction. I'll be blogging about your own Foodie TV show next.