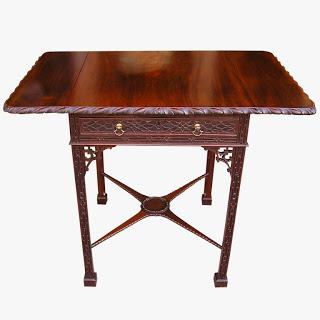 A table is generally used for putting ornamental items upon or to support a specific kind of work. It consists of a flat surface that is supported by legs. The number of legs of a table may vary from three to four with the top flat surface being of any size, shape, texture or color. The material used for making the top of a table can be  wood, aluminium, steel, glass or iron. Larger tables generally have more legs than smaller ones for proper distribution of weight. Some tables like the Pedestal have just one leg and are placed against walls. Table tops can be square, circular, rectangular or even oval. 
Pembroke Tables – These are used for a variety of purposes. They first came into being in the eighteenth century. Their size vary from medium to small and they have a round or rectangular top. The four legs of a pembroke table are often connected by means of a stretcher. Pembroke tables are provided with drawers on their sides.Tripod Tables – Like the pembroke tables, tripod tables were also used in the eighteenth century. These tables typically have a round top supported by three legs. Previously they were also known as tea tables or candle stands.

Sofa Tables – Sofa tables are made small or medium sized and are rectangular in shape, often provided with a glass top. They typically have four short legs and are long in width. They are used for utilitarian as well as decorative purposes such as serving tea, placing lamps, writing, etc.

Work Tables – These were originally invented for the sole purpose of placing sewing machine on it, to ease the task of tailors, in the 19th century. Work tables can be folded and are provided with drawers but on one side of the table, unlike pembroke tables that have drawers on either side.

Drum Tables – They are usually made in small or medium sizes, and have round tops. The corners of these tables have drawers going around them. There are, however, some drum tables which are built in the shape of a barrel and are best suited for placing ornamental items on their top. Drum tables are generally used in writing purposes.
Most furniture makers in Berkshire are skilled in the art of making tables from fine quality timber such as yew, maple, elm, english oak, mahogany, etc. They also offer the option of custom-made tables which are constructed according to the exact needs of their customers.