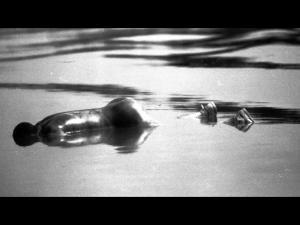 One of the thousands of dead bodies that floated down the river Akanyaru into Lake Victoria [Uganda] that Kagame claimed to be of Tutsis when they were of Hutus that his forces dumped in 1994 because they could not escape into Tanzania.
The Deluge is the title of a film  in preparation by the investigative journalist Keith Harmon Snow. It focuses on the myths and realities of genocide in Central Africa. The producer is looking for financial contributions to finalize the project. To make the public understand more the issues at stake in the film, we have decided to publish scripts of short interviews or extracts of speeches of some identifiable people who are shown in the film. In this third note, we have five people: Kyrsten Sinema, Arizona Senator and Kagame enthusiast, Prof. Peter Erlinder, defense attorney at the International Crime Tribunal on Rwanda [ICTR], Remigius Kintu, Ugandan Democratic Coalition, Marianne Baziruwiha, Rwandan Embassy dignitary and genocide survivor, Wayne Masden, author – Genocide and covert operations in Africa.
Kyrsten Sinema:
He [Kagame] is a soldier and he was trained as a soldier. His work in Uganda was to help overthow an existing government.
Prof. Peter Erlinder:
According to the US Ambassador to Rwanda Robert Flaten who testified to our case, in this late November 1993 he specifically told Paul Kagame that if Kagame resumed the war he would be responsible for deaths in order of hundreds of thousands of deaths that were occurring about the same time in Burundi, after the assassination of the Burundian president [he was killed on October 21st, 1993].
Remigius Kintu:
The Hutu who were trying to escape the slaughter, they had 3 options: either to go down south to Burundi, or to go east into Tanzania, or to go into Congo through Goma. Now the ones who ran into Tanzania, they were met at the bridge and then the Hutus who were trying to flee into Tanzania were captured by the Tutsi forces who had already captured that territory, dumped them into the river [Akanyaru]. And these are the people who floated down the river into Lake Victoria. And then Kagame and Museveni and their benefactors outside paraded these dead bodies as: "These are the Tutsi that had been killed by Hutus, when it is the other way round.
Marianne Baziruwiha:
I wanted the RPF who had taken care of my food and shelter to help me find my family, which I did not have then. So I was escorted by RPF from Kigali to Gikongoro [south of Rwanda], because I was searching for my family. I called the people to say: "Come, you see I am a Hutu. I am not a Tutsi. I did. They [RPF] didn't kill me… so the people came. They [RPF] killed them…. Sorry. I am guilty[for their death]. So when I saw them killed I never called again. I had to shut my mouth.
Wayne Madsen:
In the case of Rwanda, as bad as what happened in Rwanda was, it went absolutely according to plan. Habyarimana and his government were gone. The Hutu government of Burundi was gone. The borders with Zaire [Democratic Republic of Congo] became more porous. Eventually Mobutu was gone, and the entire area and its natural resources were off for grab to the highest bidder. The US being the world only remaining superpower was of course the country that stood to benefit the most.
The Deluge [2]: Tutsi prince Antoine Theophile Nyetera, Milton Allimadi, Professor Noam Chomsky, Susan Thompson, Dr. Jean Marie Vianney Higiro, Faustin Twagiramungu
The Deluge [1] – Bill Clinton, Donatille Niragire, Jean Luc Habyarimana, Philippe Meilhac