Get loaded for the holildays--just in case Santa Bot shows up.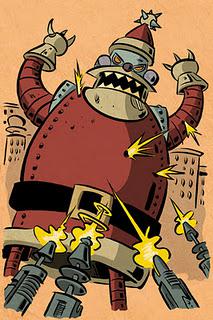 Feeling naughty? Meet Santa Bot from Futurama.
Art by Chris Schweizer © 2008 the artist.

Thanksgiving is past and the holidays are coming, with an exciting concert schedule. OK, most of the stuff is in the first two weeks of the month and in the very last week, but it's still a great slate of classical music, opera and choral music. Oh yes. There's a thing in here about Handel's Messiah, soon to occupy a concert hall near you.
On Dec. 1 at Avery Fisher Hall, with Daniel Harding conducting the New York Philharmonic in an 11am performance of Gustav Mahler's unfinished Symphony No. 10.. On Dec. 7-10, Mr. Harding is joined by Joshua Bell for the Tchaikovsky violin concerto, followed by a thunderous Rite of Spring. 
The 92nd St. Y series of piano recitals continues, with appearances by Jeremy Denk (Dec. 3) and Peter Serkin (Dec. 10).
Composer John Harbison comes to the Chamber Music Society of Lincoln Center, to curate program of Bach cantatas. Mr. Harbison has picked four of the composer's sacred works. Dec. 6 at Alice Tully Hall.
The London Philharmonic arrives at Carnegie Hall for two concerts  under the baton of enthusiastic young Russian maestro Vladimir Jurowski. Dec. 7 features Mozart and Brahms, followed by Tchaikovsky's "Manfred" Symphony and Beethoven's "Emperor" Concerto.
The Metropolitan Opera rolls out three revival this month: Madama Butterfly on Dec. 5, La fille du Regiment on Dec. 12 with Lawrence Brownlee as Tonio, and the profoundly weird "holiday" opera Hansel and Gretel.. We're not sure what cannibalism has to do with Christmas. 
On a more festive note, the small cross-town Dicapo Opera brightens the Upper East Side with Tchaikovsky's rarely performed opera Iolanta. Not really a Christmas work, but at least nobody gets fattened up to be eaten.

Composer Elliott Carter is celebrating his 103rd birthday this month, with this Dec. 8 concert at the 92nd Street Y. A career-spanning retrospective, the concert ends with a world premiere: A Sunbeam's Architecture for tenor and chamber orchestra. Mr. Carter's birthday is Dec. 11.
Not to be outdone, the Miller Theater features a Dec. 9 entry in their Composer Portraits series, featuring five premieres from downtown jazz/noise/klezmer pioneer John Zorn. Ticketholders are also invited to the St. Paul Chapel after the concert to hear Mr. Zorn improvise at the the organ. 
Once you've had your fill of modern music, it's time for Handel's Messiah. In addition to the usual New York Philharmonic performances (Dec. 13-17) of the beloved oratorio, Carnegie Hall has been booked from Dec. 19 to Dec. 23 for four straight nights of Messiah mania, performed by various New York choral groups. That's at least ten performances of the Messiah to choose from, so stand up and sing "Hallelujah!"
Following the arrival of Santa Claus, Chanukkah Harry, Kwanzaa-Bot and any other religious or semi-religious figures in the last week of the month, the Philharmonic re-opens. Their last concert series of 2011 features Anne Sofie von Otter singing various composer's orchestrations of Schubert Lieder and major orchestral works by Ravel. Alan Gilbert returns to conduct. 
There are plenty of New Years Eve events planned, with a special Philharmonic gala focusing on the music of Leonard Bernstein and George Gershwin. Pianist Jean-Yves Thibaudet lends an elegant touch to the evening.
Over at the Met, the company unveils its new pastiche on New Year's Eve. Cobbled together from music by Handel, Vivaldi and others, The Enchanted Island is a "new" opera, an imagined "interquel" between two otherwise unrelated Shakespeare plays. Be among the first to find out what happens when the lovers from A Midsummer Night's Dream wander onto the island from The Tempest. Starring David Daniels, Joyce DiDonato, and some guy named Placído Domingo. William Christie conducts.